A Random Walk Through Amazon.com, Inc. (NASDAQ:AMZN)
Random walk theory suggests that you invest in companies that you are familiar with, and most of us have purchased products online, so does that constitute a random walk? When that theory was developed it literally meant if you shopped at Wal-Mart you consider buying Wal-Mart's stock if you liked the experience you had, but bricks and mortar are not the same as they once were. In today's world that otherwise simple investment philosophy is much more clouded with variables that the consumer may not see unless he really starts digging. I have tried to do some digging here, for you.
Suddenly valuation has begun to matter again. A couple short weeks ago none of the smaller investors that responded to any of my articles, newsletters, or commentary cared anything about valuation, and although most of those smaller investors still do not care that much about valuation, the hedge funds, institutional clients, and money managers that communicate with me are certainly starting to look at valuation again. That means stocks that do not have attractive valuations are being scrutinized by that portion of the investment public that matters most.
Amazon.com, Inc. (NASDAQ:AMZN) is one of those companies. Historically, Amazon has positioned itself to be a company that relies more on revenue growth than earnings growth, and investors have generally embraced that model, but they always had the underlying understanding that eventually Amazon would be able to bring a substantial amount of that revenue to the bottom line. This has certainly come under question and the investment community is not currently comfortable with Amazon's business model because the company is actually beginning to stretch valuations again from what are already astronomical levels.
After being on track to improve valuation, even though valuation levels were still quite high, the company appears to be changing its course and the investment public is challenging the company's ability to bring revenue growth to the bottom line. Unless this changes, or the perception changes, the sentiment on the street regarding Amazon is likely to continue to deteriorate so long as valuation continues to matter two professional investors.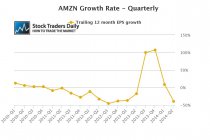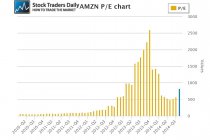 On a technical basis, Amazon is also retreating from a test of longer-term resistance as we have defined that in our real time trading report for AMZN, it is currently in the middle of its trading cycle, but it appears poised to continue to decline if it breaks below the midpoint as we have defined that in our report. If it does the stock will likely continue to fall all the way down to the lowest support levels.
According to our observations, because valuation matters again, even though smaller investors don't seem to think so, stocks like Amazon, which trades with a peg ratio of 23, will not only be scrutinized but also avoided by many potential buyers given their associated risks, that has shown up in the technical patterns because smart money began to sell at the top, and anyone who was following smart money and watching the decisions they make with their pocketbook in the chart patterns can see that the stock is currently in the process of declining towards longer term support levels too. It is an avoid.

Tweet