Apple Inc. (NASDAQ:AAPL) Investors have Reason to be Concerned
Investors in Apple Inc. (NASDAQ:AAPL) have reason to be concerned. The stock absolutely stabilized after an eye opening pullback that clearly overshot to the downside, but given the growth rate and the expectations that exist for the company the stock at current prices may indeed have overshot to the upside just recently.
Although recent earnings results showed modest improvements from the prior year, they are still lower than the year before that, and overall earnings trends for the past few years have been flat. The earnings chart below shows us that growth at Apple has basically been flat since the fourth quarter of 2011, and the volatility that existed between now and then was warranted because investors before then had been a custom to eye popping growth rates.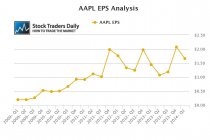 Clearly, the landscape for growth has changed as Apple saturates its market, and although prospects for new products continuously are discussed and debated, the current trend for earnings is not up. Instead, earnings have been neutral and most analysts do not expect that to change.
From a valuation perspective, Apple trades at 15 times earnings, a multiple that is not significantly high compared to other stocks we know about, but those stocks are growing at much faster rates where Apple has not been growing at all recently. In order for a multiple like this to be warranted some growth needs to be realized, and thus far there has been no EPS growth since the fourth quarter of 2011, so this 15 times multiple reflects a rich valuation for Apple specifically.
In addition, and importantly, Apple has also recently tested a longer-term level of resistance as that is defined in our real time trading report for AAPL. By rule, if resistance levels are tested we should expect them to hold and we should expect stocks to decline from resistance to support. Resistance was tested recently, resistance held, and Apple has begun to pull back slightly. If that continues the relatively rich valuation will allow for multiple contractions and a decline to longer term support should be expected. Use resistance as your risk control though, and if it breaks pull the plug.

Tweet