Deteriorating Growth Rates at Whole Foods Market, Inc. (NASDAQ:WFM)
I know that Whole Foods Market, Inc. (NASDAQ:WFM) has fallen aggressively already, but the PE multiple is still 25 times earnings and the growth rate continues to deteriorate. Many years ago Whole Foods Market was growing rapidly and the expansion warranted high multiples because investors are willing to pay up for aggressive growth rates, but when growth rates diminish that all changes.
Our analysis of the growth rate for Whole Foods Market suggests that the company is growing at 3.4% on an annualized basis, and based on its most recent quarter it is not growing at all on a quarterly basis. Our evaluation is based on trailing 12 month earnings results and in our quarterly observation we compare the trailing 12 month results from this quarter to the trailing 12 months of last quarter to determine quarterly growth rates. Our yearly growth rate chart compares the 12 month trailing earnings this quarter to the trailing 12 month earnings for the same quarter last year.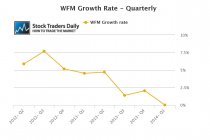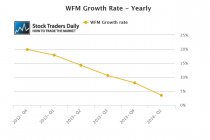 The result is not pretty for people who expected Whole Foods Market to continue to grow as rapidly as it did back in 2012. To make it even worse, random walk theory might have you believe that Whole Foods Market is still an excellent investment, but the ultra high end grocery chain is proving to be a niche market, and it is facing economies of scale that are hindering its growth rate.
This comes from an observer who frequents Whole Foods Market, and many years ago I loved the stock, but right now the price earnings multiple for Whole Foods Market is at least twice what it should be given the growth rates that exist today.
Furthermore, according to our real time trading report for WFM the stock is not finished declining because support levels are still well below the current stock price. Not unless Whole Foods Market tests longer term support as we have defined that in our real time trading report will we even consider Whole Foods Market to be a possible buy. If the right signals occur it might even be a much better short, even after the declines it has already seen.

Tweet