Don't Chase American Eagle Outfitters (NYSE:AEO)
There are two things every investor should look at when he is considering investing in a company, and reasonable these are things that traders should also be aware of. The two things are the fundamentals, often defined by valuation metrics, and the technicals, largely provided to us by stock price movements. When these are combined they can be powerful tools and help investors identify great opportunities.
Investors in American Eagle Outfitters (NYSE:AEO) are faced with a serious dilemma. Earnings growth has been declining on a quarterly and yearly basis and relative valuation levels have plummeted even though the stock price has fallen so aggressively. The company clearly is attempting to reverse the earnings deterioration that it has been experiencing, but thus far that deterioration is still quite evident in the valuation metrics.
Looking first at earnings growth, we can see that both quarterly and yearly earnings growth has been negative for American Eagle outfitters for some time. After recent company news investors are hoping that a turnaround lies ahead, but according to our observations there is plenty of risk on the table. Our quarterly and yearly earnings growth charts compare a trailing 12 month data on a quarterly basis, for the quarterly earnings growth rate chart, and on a yearly basis for the yearly growth rate chart.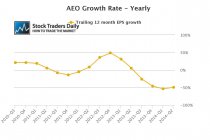 When looked at carefully, we can also see that the current PE multiple for American Eagle is higher than it has been for the past five years, so buyers that are interested in buying at these levels are doing so at a point when the multiple is sky high.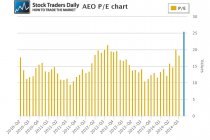 In addition, the PEG ratio is negative, which is why red flags exist for persons who respect valuation metrics.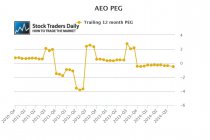 In summary, although the stock has bounced higher recently, it has nothing to do with current valuation, and investors simply seem to be hoping that the turnaround can come in the future. Negative earnings growth rates and sky-high PE levels should be telling signs.
Now, that brings us to the technicals. On a technical basis, yesterday the stock broke out above both longer term and midterm resistance levels, so if price matters more to you than valuation metrics, those breakouts were absolutely buy signals. According to our real time trading report for AEO buy signals will come again if the stock dips back to those former levels of resistance, now converted support, but use those levels as not only buy signals but also as risk control because the stock does not look good on a valuation basis.

Tweet