Expecting a Market Crash in 2016: VXX, QID, QLD, SDS
I'm not going to sugarcoat anything in this article, it is going to be blunt and to the point, and it will rub people the wrong way; words like these always have.
I am expecting the market to crash in 2016. The details I have provided to my clients talk about both sides of the supply and demand equation, focusing specifically on the supply and demand for asset classes like the stock market and housing, which have been outrageously supported by FOMC stimulus measures of years past.
My purpose in writing this article is not to detail the rationale behind my conclusion that the probability of a market crash in 2016 is extraordinarily high, but instead to offer an alternative, and it is not to bet the farm on some ridiculous position in iPath S&P 500 VIX Short Term Futures TM ETN (NYSEARCA:VXX) , puts on the eminis, or anything else. It is to be prudent, disciplined, and structured in a manner that will allow us to achieve positive results no matter what happens.
At stock traders daily, we're coming off of a banner year. The S&P 500 and Dow Jones industrial average were down for calendar 2015, but our Sentiment Table Strategy was up 70% on only 20 trades while spending 68% of the time in cash. We were efficient in 2015, and we have started 2016 with a similar degree of efficiency. This same strategy already secured 5.85% from a ProShares UltraShort QQQ (ETF) (NYSEARCA:QID) position that was initiated late last year when the market flashed overbought signals.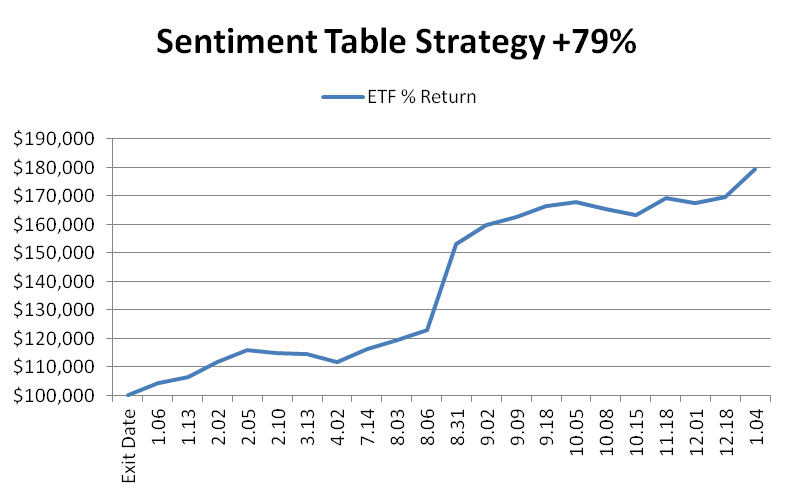 Following that strategy is not necessary, but understanding the indicators that drive that strategy can help everyone protect assets and realize positive headway in a market that seems positioned to crash.
Specifically, the Sentiment Table Strategy is based on our Sentiment Table, and that Sentiment Table is offered on our website for free. The Sentiment Table tells us when the market is overbought or oversold, and although it is not perfect it has clearly been efficient and I have been using it for 7 years.
This is something I think everyone should monitor, and I am offering it to you on our website without the requirement of registering for any subscription to help you protect your assets. Check the bottom right hand corner.
The indicators from the Sentiment Table Strategy are simple, very easy to read, and actionable. When overbought indicators present themselves like they did late last year downside risks increase measurably. With that understood, investors can hedge Core Portfolios, or even engage in naked short positions.
For example, if a Core Portfolio was heavily invested in stocks, mutual funds, and managed accounts that were to hide closely to the S&P 500, if the S&P 500 moved up or down so did the portfolio in a similar percentage, then the objective would be to hedge that Core Portfolio with ProShares UltraShort S&P500 (ETF) (NYSEARCA:SDS) when overbought market conditions were signaled from the Sentiment Table. This, if done proportionally, would completely neutralized your Core Portfolio and prevent it from losing money if the market fell from that overbought conditions, which is usually what happens. It would also allow you to continue to realize the dividends from your investments and you would not need to sell them.
Hedging the Core Portfolio is extremely important when overbought market conditions exist, but my ultimate objective in using these hedging techniques is to improve performance by between eight and 10% a year annually on average. That won't prevent portfolios from experiencing drawdowns if the market gets crushed, but look back to what would've happened if this was adopted at the end of 2007, right before the crash of 2008. Outperforming the market in 2008 and 2009 by that amount would have allowed investors to be in the money again as 2009 came to an end, but it took the market until 2013, 4 additional years, to realize the same. The process of hedging Core Portfolios has teeth and it should be integrated.
In addition, I believe it is very prudent to also engage in a satellite strategy, using the same Sentiment Table indicators, but this one would actually have naked positions instead of hedging. For example, if that overbought indicator surfaced, like it did at the end of last year, QID would be bought, and conversely if an oversold indicator surfaced ProShares Ultra QQQ (ETF) (NYSEARCA:QLD) would be bought. That approach is what the Sentiment Table Strategy used to achieve its results last year and so far this year too.
This combination of hedging Core Portfolios and engaging in a satellite strategy is powerful, and somewhat unique. In one respect we are using the Sentiment Table to completely neutralize risk, while in another we are using the Sentiment Table to engage double ETFs (increase risk), so prudently investors need to recognize that the satellite strategy, the Sentiment Table Strategy, which holds naked ETFs, is more volatile and therefore should only be used with a smaller portion of portfolios.
In the face of the risks I see in the year ahead, the potential for a market crash, investors have choices.
You can either take it on the Chin, run for the hills,
bet the farm on the short side,
or engage in strategies that can work no matter what happens.
Recognize that the options I have presented here can work no matter what happens.
Good luck to everybody in 2016!

Tweet