For Adobe Systems Incorporated (NASDAQ:ADBE) Valuation Concerns Exist
Adobe Systems Incorporated (NASDAQ:ADBE) was selected as our Stock of the Week this week, but our Stock of the Week strategy is a trading strategy not an investment strategy. For investors there are serious risks that must be addressed by the company, fundamental in nature, but for traders Adobe moves nicely and can offer handsome rewards for those astute enough to take advantage of it.
Fundamentally, concerns exist because revenue growth has stagnated and earnings have deteriorated (see chart below). This presents valuation concerns because the stock trades at 52x EPS. Not so long ago, Adobe transitioned to a recurring revenue model, something that is especially attractive when economic conditions deteriorate, but that has not yet played out for investors. Many of the large companies on the street adopt this model as well, but for Adobe a hurdle exists that it has not yet overcome, and it is this hurdle that challenges both the company and investors at the same time.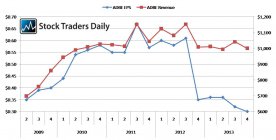 Simply, Adobe Products are not easy to use. It is nice that the prices are now more affordable by the general public, which ultimately is one reason that Adobe transitioned to this model, to attract more buyers, but their products are simply not intuitive. I am not a developer, but I can read code, I understand code, I have been working closely with developers for 20 years, and I have used almost every software program on the market. I'm also a subscriber to Adobe's suite, but every time I attempt to use their media tools to enhance my graphics and video interactions I find myself spending hours upon hours to complete a project which would take me only minutes to do using competing software.
Arguably, the quality of Adobe Products produces end results that surpass most competing software, but if users cannot understand how to use the software and they must then pay somebody to do it, well, it makes no sense for the user to be a subscriber, it only makes sense for the person they paid to do the work to subscribe to Adobe. I appreciate, and in some cases am amazed by the results that come from Adobe's suite of products, but they are just not easy to use and unless that changes investors are likely to see a continuation of the trend we are witness to today.
The upcoming earnings report on June 17, 2014 is likely to show another very meager result, and nothing seems to be poised to change. The stock still trades at very lofty levels given these meager results, in large part because the company is respected, but the business model is flawed and it will continue to be flawed unless they improve the intuitive nature of their product.
Stock of the Week:
For traders, Adobe offers excellent returns so long as risk controls are implemented. This week, we selected Adobe as our Stock of the Week given our general market analysis and specific analysis for Adobe's recent stock price movement as well. This in no way reflects the fundamental observations above, because trading strategies and fundamental longer-term investment strategies are different, but our philosophy is that short term gains lead to long term success, while also allowing us to be nimble, and our Stock of the Week strategy is focused on short term gains.

Tweet