For Tesla Motors Inc (NASDAQ:TSLA), Love The Company, but Not The Stock
When it comes to Tesla Motors Inc (NASDAQ:TSLA), I like the company and I think management is great, I just don't love the stock. Appreciating management and appreciating a stock price are two completely different things. There are many additional factors that go into evaluating valuation, and understanding management and their focus is only a small variable in that equation. The major variables include general market conditions and earnings growth.
When companies trade at lofty PE multiples like Tesla does investors are looking for growth and expressing an interest in paying up for expected future growth. The media portrays this as a risk on environment, and when the overall market carries with it a sentiment that supports that risk on notion the probabilities that highflying stocks will continue to fly high increase.
On the other hand, when general market perception begins to favor risk control, as it seems to have done lately, those highflying stocks are no longer as attractive as they once were. In fact, in markets where risk is perceived to have increased investors who are interested in taking risks off the table often consider doing so in stocks with lofty valuations. Tesla is one of those stocks.
Therefore, although I like management very much, and like the product, and I think the company is an innovator, I must respect with the overall market is telling me. In addition to that, the quarterly trailing 12 month growth rate for Tesla has dropped to below 10%. The year over year trailing 12 month growth rate for Tesla looks much better, but that includes negative earnings from 2012 and no one is expecting those types of results going forward. That means the comps are going to be more difficult and 10% simply won't due.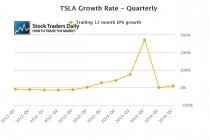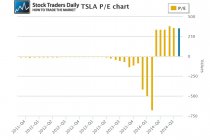 With a PE multiple of 354, Tesla is not only considered a highflier, but I would consider this to be one of the stocks most prone to decline if the general perception in the market the roads and the market declines, at greater magnitudes. In my opinion, is just a matter of time before the market starts to fall aggressively, so I cannot be a fan of Tesla, the stock, at this immediate juncture. Read "The Investment Rate" to understand why I am concerned about market levels.
In fact, on a technical basis, our real time trading report for TSLA tells us that the stock tested longer-term resistance already, it has begun to pull back already, and if it continues to pull back within its longer term channel we should see it fall all the way to longer term support. Only there would it look like a buy again to me, and unless that happens Tesla is an avoid.

Tweet