Genworth Financial Inc (NYSE:GNW) Has Fundamental and Technical Problems
There seems to be a feeling in certain circles that financial companies can perform even when revenues decline, but that is a risky bet, and could lead those investors down a path that is unfavorable. The last thing investors want is to be underwater, much less underwater in a company with declining revenue.
Something needs to change at Genworth Financial Inc (NYSE:GNW) and investors in the stock must realize that the current model is unsustainable. Revenues have been declining, but earnings have been increasing, and that combination cannot last. One way or another, something is going to change at Genworth Financial, and given recent action the outlook is not positive.
At first glance, everything seems to be fine, earnings growth exceeds 19% on a yearly basis, and with a PE multiple of about 10 times earnings that makes Genworth look cheap on a face value fundamental basis. Those who use peg ratios can see that the trailing data provide a peg ratio of about 0.5, indicating that the stock looks undervalued on the surface.
However, once additional digging has been done we can see that earnings have been growing but revenues have not, and in situations like this it is usually the direction of the revenue that prevails.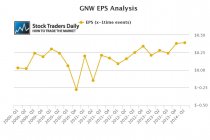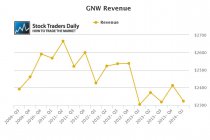 Without added revenue companies cannot continue to grow earnings for very long and in this case revenue growth at Genworth Financial has been deteriorating, which makes future earnings growth questionable. In addition, the stock has also recently begun to break down.
According to our real time trading report for GNW the stock recently broke below longer term support and because that happened major red flags surfaced. Genworth Financial is capable of falling aggressively, it has already started to do that, and although the current PE multiple makes the stock look undervalued, the technical breakdown that has occurred and the fundamental observations of the differences between earnings and revenue growth make this stock an avoid.
According to our observations, data from Genworth Financial does not offer compelling reason to buy the stock on a fundamental basis or on a technical basis at this time and unless that changes investors should not only avoid the stock, but if it bounces back to converted longer term resistance it also appears to be an excellent short candidate.

Tweet