Google Inc (NASDAQ:GOOG) Earnings Still On Track
Since the Split, Shares of Google Inc (NASDAQ:GOOG) have been on a wild ride. The Stock has fallen by about 20%, bounced by about 12%, but in the midst of constant media attention and scrutiny, Google has also managed to show impressive quarterly EPS results. From historical observations, this is really all that matters to Google Investors.
Clearly Revenue is important too because of its influence on EPS, but historically, even between Q1 and Q2 2013 when revenues declined, it was the EPS growth that really mattered to investors. At this juncture investors are facing the same situation it seems.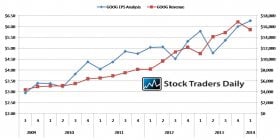 Revenues are clearly up on a Y/Y basis, but Google investors have largely been accustomed to Q/Q growth in both EPS and Revenue as well, and that did not happen last time Google reported. This can cause some investors to be concerned, but on a valuation basis, if Google is able to maintain its 20% annual growth rate the 28x P/E multiple will look cheap. The problem is, for a company of that size it is very hard to grow by 20%.
Rationally, the reason why the P/E multiple is not higher is because investors question the company's ability to sustain these rates. The recent price drop suggests the same, but EPS trends have thus far not raised any red flags. One might argue that the decision by Apple to use Bing instead of Google Search is a concern, and I would argue that from a mobile revenue standpoint it absolutely may put more pressure on that segment of the business, but in order for Google investors to become seriously concerned EPS growth deterioration will need to surface. Thus far it has not.
That fundamental rationale could create a sanguine environment for investors, but for traders it is a completely different story. A stock that has been all over the map in recent weeks, Google's volatility is what traders look for, and traders can have a field day with this stock. According to our real time trading report for GOOG, the stock has recently tested an intra channel level of resistance and if that resistance level holds we expect a decline back to loner term support. This resistance level would need to break higher in order for positive trading signals to surface, and at this point it has not.

Tweet