Growth Rates a Concern for The TJX Companies, Inc. (NYSE:TJX)
The recent revision to the GDP report was predicated on a reduction in consumer spending, something that every retail company should be concerned with. The decisions consumers make with their pocketbooks affect 75% of GDP growth according to some estimates, and therefore the consumer is the most important aspect of our economy.
Recently, the health of the consumer has come under question, but I have also already begun to question retail stocks given the changes we are seeing.
With a specific look at The TJX Companies, Inc. (NYSE:TJX), we can see something very interesting in the growth rate of this company, and this could help us understand what is happening in the industry. The 12 month annualized growth rate for TJX has declined to levels not seen since the beginning of 2011.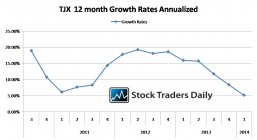 According to our observations, which are based on the earnings reports offered by TJX, the company is now growing at a rate of about 5% on a trailing 12 month basis. Growth rates peaked in 2012 and although still handsome, declined throughout 2013. The steady decline has now put growth rates at concerning levels, especially when the price earnings multiple of TJX is considered.
TJX trades at a 17.5x earnings multiple, which is 3.5 times its current growth rate. This is a rich valuation by every measure, and it presents serious concerns. On the surface, the earnings numbers offered by TJX are better than they were; good enough in fact for some people to forget about what is really important to Wall Street.
Investors are concerned about growth and they're willing to pay up for companies that provide solid growth rates, but the opposite happens when growth rates contract like they have here. Wall Street is unforgiving and when growth rates contract multiple contractions often follows. That has already begun to happen with TJX.
In doing so, according to our real time trading report for TJX, the stock is now approaching a level of support which is extremely important. If the stock manages to hold support our technical observations suggest that TJX may be able to recover, but if the stock breaks down below this level of support, which is our longer term support level for the stock, the next level maybe $40.
Investors absolutely have reason to be concerned because TJX is not growing like it has in the past. The raw data looks better than it did in 2011, but the growth rates are just the same today after peaking in 2012. Unless the growth rates recover, expect multiple contractions. Because stocks usually move in advance of news, if TJX breaks our longer term support level it will likely be a precursor to that multiple contraction and deteriorating growth rates.

Tweet