If Support Holds Oil is Set to Increase: UCO, SCO
Oil prices have not been driven by fundamentals as much as they have by momentum. We have talked about this extensively and we have taken advantage of that in a trading strategy designed specifically for oil, our LOTS strategy (Leveraged Oil Trading Strategy).
The realization that oil prices are ignoring fundamentals leaves a void in traditional thinking, but not unlike Forex markets commodities often trade based on technicals, and the driving hand behind our strategy, although an underlying fundamental observation exists, are the technicals.
On Thursday, as the severity of the Canadian wildfires was being digested, the technicals seemed to dissolve, at least for the day, so recognize that this base is not free from knee jerk reactions to news. Those knee jerk reactions can cause breaks to the technical patterns, temporary blips, and rather odd periodic formations.
However, once knee jerk reactions dissipate, the focus of traders on the technicals resurfaces. Our observation is that the knee jerk reaction to the Canadian Oil problems has now been digested, risks have been assessed, and the market is largely telling us that disruptions are likely to be temporary.
Yesterday, on the heels of this news, we recommended to clients that they engage in the short side of the trade, using Proshares Trust II (NYSEARCA:SCO). (See the recommendation at the bottom of yesterday's article) By buying that inverse leveraged ETF we took advantage of what we saw as a knee jerk reaction in the technical parameters governing oil, and oil prices fell as we expected them to do, but LOTS is not a static strategy.
Interestingly, our stance is changing.
Largely, this is a direct result of midterm technical observations stemming from ProShares Ultra DJ-UBS Crude Oil (NYSEARCA:UCO) specifically. UCO is the leveraged ETF for WTI and when we want to be long oil we buy UCO.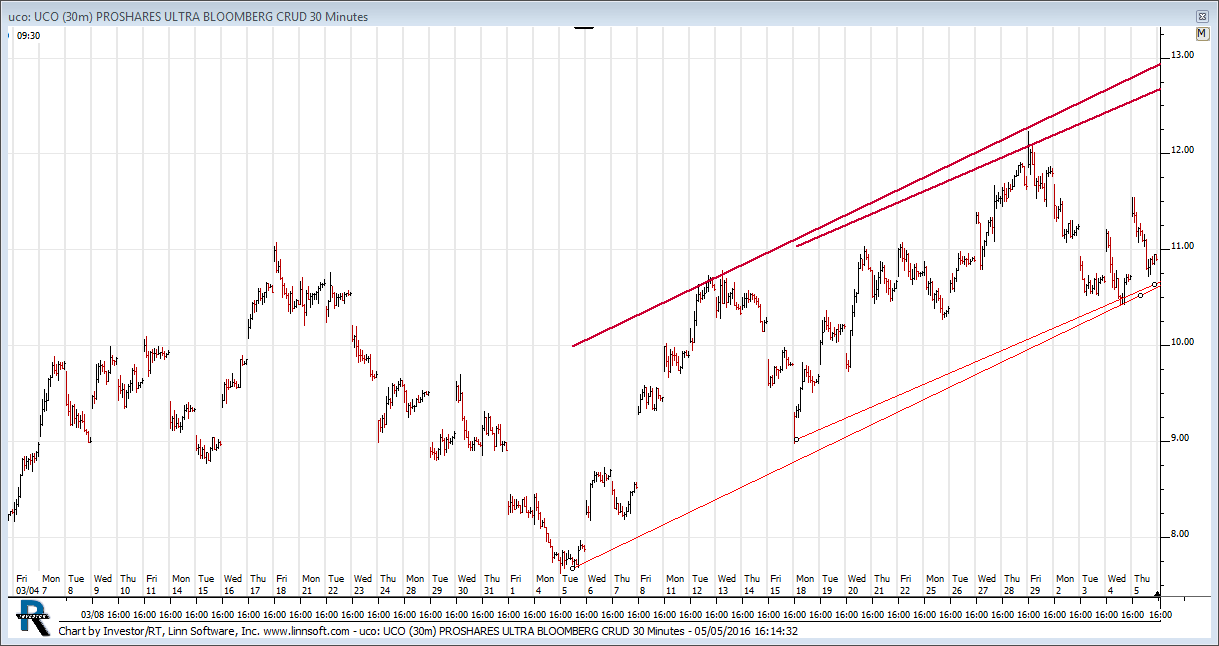 The trend lines in the chart above span approximately 30 days, so this is considered by us to be a midterm observation. There are longer term charts available to our clients through our Institutional Research and Special Reports.
However, our immediate focus is on these midterm technical patterns.
Tests of support actually took place on Wednesday, and then again late in the day on Thursday, and in premarket trading on Friday the same seemed to be happening (the tests on Thursday and Friday are deemed the same because bounces have not happened, so this is a second test). e now also have an upside confirmation threshold too, but support needs to hold.
Midterm upward sloping support lines were being tested.
When support levels are tested we should, by definition, expect them to hold, and if support holds we should expect resistance to best tested by definition as well. This is a simple rule of technical analysis which tells us to expect the trend lines to hold unless they break.
Therefore, as the support line is tested and it is reasonable to assume that an oscillation towards resistance take place, our attention shifts from the short side to the long side of the trade. Specific price targets and entry levels in association with LOTS (leveraged Oil Trading Strategy) are available now. SPECIAL REPORTS
Review the Trading Plans: Tweet