Intel Corporation (NASDAQ:INTC) Has Valuation Risk
Everyone has been concerned about Intel. The PC industry as a whole has changed, and it will continue to change, and companies will need to adapt. Thus far Intel seems slow to do that, and unless this changes investors will remain concerned. In fact, unless that changes very fast, valuations are going to start to be questioned too.
Intel Corporation (NASDAQ:INTC) is scheduled to report earnings on Tuesday, after the market closes, and consensus estimates are looking for $0.52 a share. If the company reports in line with these estimates it will have bettered the estimates from the same quarter of last year and analysts will continue to hope that Intel will find a way to grow again.
At current levels, however, INTC is actually showing no growth and actually has fallen into negative growth territory in past quarters. In the chart below we compare the trailing 12 month growth rates for Intel on a quarter by quarter basis, which means that we will compare the second quarter trailing 12 month growth rate to the same trailing 12 month growth rate that existed last quarter to determine its quarterly growth rate, and in the chart further below that we show the yearly growth rate for the company using the same trailing 12 month calculation but comparing it to the same period of the previous year to determine if a yearly growth. In both cases, Intel has not been growing, yet the stock trades with a multiple of 16.5 times earnings.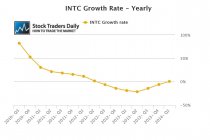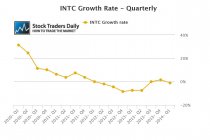 At first glance, a multiple like this looks to be in line with the S&P 500, maybe even a little less than the S&P 500, but for a company that has not been growing a multiple like this clearly suggests that analysts are either hoping or expecting the company to turn around.
If Intel manages to meet earnings estimates this quarter it will be a positive sign, but as the earnings chart below shows $0.52 a share will not better the highest recent per share to earnings report from the company, so until will need to do more than report one solid quarter to substantiate its current multiple.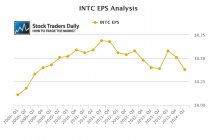 For traders, Intel has recently broken out above the longer-term resistance level that we have identified for the stock, and even though the concerns above exist, so long as the stock remains above this recently broken resistance level, which has now been converted into support, investors and traders should maintain their position in Intel. If the stock breaks back below converted support, as that is defined in our real time trading report for INTC, investors should sell and traders might even want to consider the short side. If converted support breaks expect a decline all the way to longer term support. The stock is relatively close to converted support at this time.

Tweet