LinkedIn Corp (NYSE:LNKD) Concerns Still Exist
There are major concern for investors in LinkedIn Corp (NYSE:LNKD) given the valuation and recent earnings trends. Given current analyst expectations, the price earnings multiple of LinkedIn based on fiscal 2014 earnings expectations is 94x. The problem is, EPS growth has recently stalled and is expected to continue on this stalled path for the next two consecutive quarters at least.
Reasonably, LinkedIn has invested in their product, they have made changes to their website, they have tried to develop additional income streams, and they seem to be capable of increasing revenue, but unless they can bring the money to the bottom line risks to investors will remain high.
Using a general observation of analysts' estimates, the street is expecting LinkedIn to experience substantial earnings growth 3 quarters from now. The analysis assumes that the reinvestment phase may have come full circle by then and LinkedIn will begin to reward shareholders.
The good news is, shown in the chart below, earnings growth trends, although not nearly as consistent as revenue growth trends, are actually in parity with revenue growth at this time. Earnings growth experienced an accelerated move in 2012, surpassing revenue growth at that time, and the stall that is happened recently has brought overall earnings growth more in line with revenue growth. It is also important to recognize that revenue growth has been consistent and overall estimates suggest continued revenue increases, albeit at a slightly lower pace.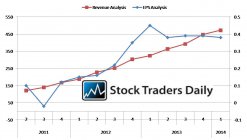 Trading analysis for LinkedIn:
According to our real time trading report for LNKD the stock has immediate downside risk because it is in the process of declining from a midterm level of resistance towards midterm support levels again. This time, midterm support levels are lower than recent lows, indicative of a downward channel that is clear to the naked eye and tangible to anyone invested in the stock for the past eight months.
LinkedIn is highly risky because earnings are not expected to improve for two additional quarters, but that is a lifetime and many changes can happen between now and then. Our analysis suggests that investors avoid LinkedIn with its current multiple and that short Sellers continue to be interested in the stock because at 94 times this year's earnings there is unlikely to be a substantial upside move in the stock until the company is able to bring money to the bottom line and reward shareholders again.

Tweet