Netflix, Inc. (NASDAQ:NFLX) May Increase, But Don't Get Greedy
Investors in Netflix, Inc. (NASDAQ:NFLX) often have a love/hate relationship with the stock. Valuations appear excessive, with PE multiples at 188 (after 1-time events are excluded) it takes nerves of steel to buy the stock, but the growth rate has been excellent and although the rate of growth is expected to decline, EPS numbers are still likely to improve.
According to our observations, Netflix is growing EPS at about 149% a year at current levels, and although that rate declined from its peak, which was near 400% in the third quarter of 2013, the current growth rate actually makes the current multiple look more reasonable.
In our EPS growth chart below we compare trailing 12 month EPS numbers for each quarter to the same quarter of the previous year to determine yearly growth rates. This shows us a growth rate chart for Netflix spanning back to 2010. All of our data begins in January of 2009, so the first trailing 12 month growth number plotted on our chart is in 2010.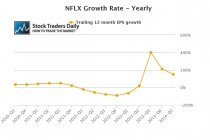 Given current analysts' estimates, the growth rate that is already declining is likely to continue to decline, and estimates suggest a growth rate more in line with 100% for the current year when it is all said and done. In addition, analysts expect growth rates to decline to 50% in 2015, suggesting that the growth rate chart that already demonstrates a declining growth rate for Netflix will continue to decline.
This is a concern to investors who expect Netflix to increase measurably from current levels. Absolutely, the stock is an excellent trading vehicle, but if the stock trades in line with its growth levels for 2014, which is expected to be more around 100%, its PE multiple should also adjust accordingly. This is true because the EPS growth rate is declining, not accelerating.
If that is true, and the current PE multiple of 166 falls to be more in line with projected growth rates the stock could come under pressure, but according to our real time trading report for NFLX the stock is in the process of increasing towards longer-term resistance. Netflix recently tested a level of intra channel support according to our analysis, and it has not yet tested resistance, so by definition we should expect Netflix to continue to increase until resistance is tested. Once that happens there may be significant headwinds and a material turned down from the stock.

Tweet