New Beverages but Same Story for Starbucks Corporation (NASDAQ:SBUX)
When we evaluate Starbucks Corporation (NASDAQ:SBUX) it is important for us to understand the cyclicality of the earnings cycle, especially between the fourth quarter and the first quarter of each calendar year. Starbucks usually has its worst quarter in the first quarter followed by subsequent growth in each of the subsequent quarters, leading up to its best quarter, which is typically the fourth quarter.
As patterns have shown, there is usually a significant drop off between the fourth quarter and the first quarter of each calendar year, but the most recent report showed a much more significant drop-off based on historical comparisons.
Importantly, there has also been exceptional growth leading up to this more pronounced pullback, so we cannot go as far as to say that this one data point should cause investors to be concerned. In order for investors to be concerned about the earnings growth rate at Starbucks something more will need to happen. Based on what we're seeing now, although the most recent setback was more pronounced than in first quarters of previous years, the earnings trend is still intact.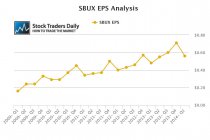 After extracting the extraordinary items from the earnings releases, Starbucks trades with a multiple of about 30 times trailing earnings. Initially this would also seem rich, but the company has been able to grow at a rate faster than 30% a year, so that multiple fits recent earnings cycles. Given that there are no breaks to the earnings trend at this time, there is no reason to expect significant multiple contractions. If a break in the trend occurs then significant multiple contractions can come, because without the corresponding growth the current PE multiple will absolutely look rich.
Now, and possibly the most important item for traders, Starbucks is also starting to break back beyond its longer term resistance level. In our real time trading report for SBUX we show that the stock is now officially above longer term resistance again and so long as that remains true we will expect the stock to continue to increase. That break of resistance was a technical buy signal, and so long as Starbucks remains above that level higher levels should be expected by rule, but also that former level of resistance, which has now been converted into support, acts as our risk control mechanism. If the stock fades back below the resistance line that was broken recently buyers should reconsider because the stock will have an ability to decline all the way to longer term support again.
Lastly, Starbucks is preparing to roll out a number of new beverages, some of which will compete with its subsidiary Teavana, but as the company has been doing almost religiously, they continue to look for ways to increase same store sales in addition to, of course, traditional expansion.
Thus far, nothing appears to have changed, the company seems on the same track, but if that does change I expect the first warning sign to come from the technical observations.

Tweet