No EPS Growth For 5 years for Hewlett-Packard Company (NYSE:HPQ) Investors
Investors in Hewlett-Packard Company (NYSE:HPQ) have every reason to be concerned. Earnings results have been dismal and deteriorating, and although the company saw a couple good quarters after 2009, EPS is basically back at 2009 levels, showing no growth for investors on a per-share basis for more than 5 years.
Until the fourth quarter of 2012, the stock price was moving in a parallel fashion to EPS. As EPS declined, institutional investors sold, and the stock price fell sharply. Arguably, however, the stock price fell much more sharply than the associated contraction in EPS. To be specific, HPQ fell from near $50 to near $15, while EPS fell from near $1.40 to near $0.80 between 2010 and the end of 2012.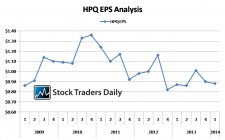 At that point expectations for improvement changed, and what was clearly a stock that was beaten down more than it probably should have been recovered. Those new investors are demanding though, and they are unwilling to wait and see for fear of a repeat test of the $15 range, so HPQ must prove that they are on track to increase shareholder value.
Initially the outlook was better, but the trend of EPS and the recent earnings report suggests that material risks exist yet again, and the run during calendar 2013 is now being questioned. Institutional investors know that FOMC - influenced liquidity flowed like water last year, they know that influenced money into riskier names, and they know the FOMC is turning off the tap. The intuitive ones also know, as our macroeconomic analysis proves, that the Net Real Stimulus (NRS) is already negative.
As a result, a case can be made that the excess liquidity brought investors to the table in HPQ last year, and by definition those types of investors are less willing to wait it out. Be cautious with HPQ as a result.
In addition, our real time trading report for HPQ tells us that the stock is now officially testing its longer term support level, and if that breaks the 2013 run could be wiped out. Respect support, use it as both a trading indicator and as a measure of risk control, but don't plug your nose here. There could be great opportunities in HPQ, but you need to respect support.

Tweet