SanDisk Corporation (NASDAQ:SNDK) Has Something For Traders and Investors
When stocks that are growing fast fall in price, the first thing we need to do as investors is look at the valuation metrics. However, trades approach the situation very differently. This article addresses both situations.
SanDisk Corporation (NASDAQ:SNDK) has been selected as the Stock of the Week by Stock Traders Daily this week. SanDisk has recently come under pressure after releasing earnings that did not satisfy Wall Street. According to our observations, the company is still growing, but it may have reached a peak in earnings growth.
The turn down in shares of SanDisk that have begun are also in line with our observations, and our downside target for SanDisk is within striking distance.
The earnings growth trends for SanDisk have recently been excellent, but as the EPS yearly growth chart below shows, EPS growth recently peaked at 107%. Current yearly growth is over 30%, so with a P/E slightly above 15 shares of SanDisk do not look significantly overvalued.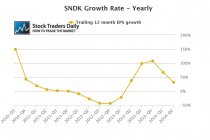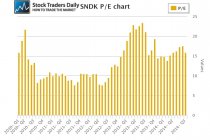 That analysis is for investors, because investors care quite a bit about valuation and EPS growth trends, at least they should, but ultimately price is what makes us money in the stock market, and the selection of SNDK as the Stock of the Week this week was based in large part on the technicals.
According to our real time trading report for SNDK the stock recently broke below midterm support and it is heading down towards longer term support, but it is not quite there yet. The trade is to short near former levels of midterm support, which have been broken and are now converted into resistance, and target longer term support for SNDK.
Because the fundamentals do look interesting, especially with a Current PEG of 0.54, SNDK could be a buy for longer term investors at longer term support as well.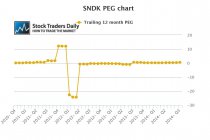 Tweet