Stock Traders Daily issues Guidance for Union Pacific Corporation (NYSE:UNP)
On 3.3.15 UNP announced the expectation of slightly lower volumes
On 3.4.15 UNP filed a lawsuit against FSTR
on 3.10.15 Cowen Maintains Outperform Rating on UNP
On 3.12.15 UNP was mentioned favorably on Mad Money
Today, Stock Traders Daily issued the follow Guidance for UNP:
Union Pacific Corporation (NYSE:UNP) is interesting not only on a relative value basis, but the stock is also testing longer term support. Earnings growth has been steadily increasing since the second quarter of 2013, last quarter earnings growth was 17.79%, and earnings growth is expected to continue to grow in both calendar 2015 and 2016 if analysts are correct about their forward looking earnings estimates. In calendar 2015 earnings growth is expected to be 21.32%, and increase even further during calendar 2016 to 30.23%. By every account the growth rate has not only been strong, but it is expected to get stronger. That makes Union Pacific compelling on a fundamental basis.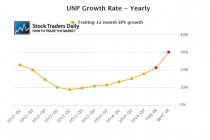 On a technical basis, shares of Union Pacific have also fallen to test the longer term support level we have identified for the stock. Although these levels will change over time and therefore updates to this report should be made regularly, at this time longer term support was $113.92. By rule, if stocks hold their support levels buy signal surface and in this case, if Union Pacific olds its support level we would expect the stock to increase towards $132.44, our stated longer term resistance level for the stock.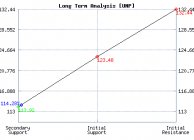 Importantly, the longer term support level we identified also acts as our risk control. If the stock happens to break below longer term support sell signals will surface. Even though analyst estimates and forward looking growth rates look incredibly solid, the rules that we abide by suggest that price action is often a leading indicator to changes in earnings estimates. If support levels happen to break, investors who buy near support should consider that a red flag.
Disclaimer: Stock Traders Daily offers real time trading reports for over 4000 companies, market analysis for the Dow Jones industrial average, S&P 500, NASDAQ, and Russell 2000, and favors strategies that correlate to market direction and therefore market timing plays a role in our observations. Investing in the stock market involves a high degree of risk and everyone should consult with their Financial Advisors before making the decision to buy or sell. This article does not suggest that anyone buy or sell this stock or any other stock accordingly.

Tweet