Tesla Motors Inc (NASDAQ:TSLA) Tested Longer Term Support
Anyone interested in becoming a long term investor in Tesla Motors Inc (NASDAQ:TSLA) at current levels should be cautious. Tesla is much better to trade at these levels than it is as a long term investment. Tesla has a very rich valuation, defined by a forward 5-year PEG ratio well over 3. Given where the stock price is now, current investors are betting that Tesla does much better than analyst's current estimates.
That poses risk, especially when excess liquidity levels dry up. When money flows like water, like it did during Calendar 2013, speculators run wild. However, the FOMC has started to turn off that spigot and according to our observations Net Real Stimulus (NRS) has effectively turned negative.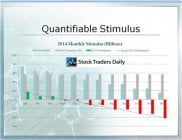 Without the excess liquidity in the system risks increase for stocks that carry a significant premium to current fair valuation. Tesla fits this profile perfectly. The stock is rich, not even the most bullish investors in TSLA will argue that point, but expectations are high. That makes the stock vulnerable to pullbacks of sometimes eye-popping magnitude.
In addition, when NRS turns negative in the macroeconomic world, the probabilities of eye-popping declines also increase, and when you factor in the deteriorating natural economic growth rate as that is defined by The Investment Rate it gets even more concerning. That is the environment we are in today.
Therefore, risks are extremely high for investors in TSLA, and we would caution anyone who is tempted to fall in love with this stock. By all means, appreciate the product, but be careful with the stock because it will absolutely continue to have wild swings according to our observations.
That makes TSLA and ideal candidate to trade, and to that point TSLA tested the longer term support level in our real time report for TSLA not so long ago, and support has held thus far. By rule, when support levels are tested buy signals surface, and that is exactly what happened in TSLA recently, but that buy signal is also associated with an intention to sell. Support acts as a buy signal and also as a measure of risk control (if support breaks we get out), but we also have an upside price target (resistance).
In summary, TSLA carries with it fundamental risks, it is also subject to macroeconomic risks, but the stock fluctuates nicely making it a great candidate for traders.

Tweet