Tim Hortons Inc. (USA) (NYSE:THI) Is Better than Burger King Worldwide Inc (NYSE:BKW)
According to our evaluation Tim Hortons Inc. (USA) (NYSE:THI) is a much better company than Burger King Worldwide Inc (NYSE:BKW) and as a result competitors to Burger King are likely to be interested in Tim Horton's as well. Not only would they get a well run company with consistent earnings and revenue, but in addition they would levy a blow to Burger King, a company who has been struggling in recent years.
The illustrations below define valuation for Burger King and Tim Horton's separately. These are current valuation statistics using earnings data that exclude onetime events like one time charges and tax benefits so as to accurately identify earnings growth from operations. Both earnings and revenue play an integral role in these observations.
First, Burger King has awful revenue trends. Revenues have been declining steadily since 2010, but in the second quarter of 2014 slight revenue growth was realized for the first time since then. That does not change the trend, but it does warrant some positive considerations and if the company is able to better revenues again it will better the revenue trend too.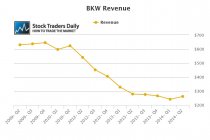 Uniquely, earnings growth has been realized in quarters where revenue declined, a relationship that cannot e sustained, but the earnings levels are still well below what they were in the second quarter of 2010. The yearly earnings growth rate demonstrated in the chart below uses trailing 12 month earnings data to compare the current quarter to the same quarter of last year to define yearly earnings growth, and then we plot that data over time. Currently, Burger King is growing earnings at a rate of 9.5%.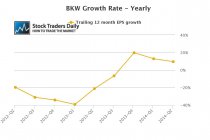 At current levels, the company trades with a price earnings multiple over 33, which makes its peg ratio, the defining metric of valuation, 3.55. This is a rich valuation level for a company who has only now begun to realize slight revenue growth and whose earnings growth for the past couple of years cannot be sustained without corresponding revenue growth and therefore cannot be trusted.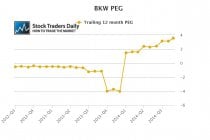 On the other hand, the consistency at Tim Horton's has been superb. Earnings have increased steadily in lockstep with revenue growth, and recently earnings growth on a yearly basis, using the same trailing 12 month observations, was 10.92%.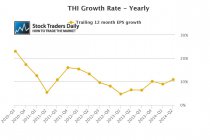 After the recent increases the stock trades at 24 times earnings with a peg ratio of 2.18.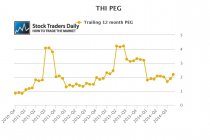 In summary, these comparisons suggest that Tim Horton's is a much more stable company than Burger King. Revenue growth and earnings growth have been much more consistent and although valuation metrics appear to be a little stretched for Tim Horton's after the recent increase, it certainly appears to be a better company with better valuation than Burger King. Not to mention, of course, those Crullers are great.
These comparisons can be used by investors trying to disseminate the news recently released between these two companies to better gauge not only the probability of a mutually beneficial relationship, but also the probability that competing entities may find themselves interested.
What I am saying here is that Tim Horton's sure looks like it is a better value given its consistency, and I think the competition would consider that not only positive, but a blow to Burger King too, so I would not be surprised to see a bid for Tim Horton's.

Tweet