Trading Analysis for Merck & Co., Inc. (NYSE:MRK)
Investors in Merck & Co., Inc. (NYSE:MRK) have reason to be concerned. Earnings growth last quarter was negative, if analysts are right about their expectations for calendar 2015 earnings growth will be -3.4%, worse than it was last time, but analysts have good expectations for calendar 2016 and expect earnings growth to rebound to 9.71% at the end of calendar 2016, so if they are right EPS growth is likely to come again in a year or so. That means Merck is subject to immediate risks and concerns to value oriented investors.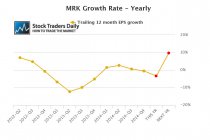 Our trading analysis for Merck suggests that the stock is very close to a level of longer term support and that is an actionable catalyst. Our trading strategies focus on longer term pivot points like the one Merck is facing today and trading plans are defined based on the successful tests or breaks of these pivot points respectively. These pivot points and the associated trading plans will change over time so regular updates should be made, but currently longer term support is identified at $55.50, shares of Merck were very close to this level, and if longer term support remains intact we would expect the stock to increase to longer-term resistance, which is $63.56.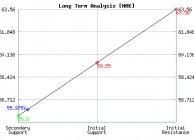 Additionally, and importantly, although we have a generally positive technical bias given the tests of support that are happening, that support level also acts as our risk control and if it breaks not only should investors who buy near support sell their position to protect their assets, but short signals will also surface indicating further decline is possible.
Disclaimer: Stock Traders Daily offers real time trading reports for over 4000 companies, market analysis for the Dow Jones industrial average, S&P 500, NASDAQ, and Russell 2000, and favors strategies that correlate to market direction and therefore market timing plays a role in our observations. Investing in the stock market involves a high degree of risk and everyone should consult with their Financial Advisors before making the decision to buy or sell. This article does not suggest that anyone buy or sell this stock or any other stock accordingly.

Tweet