Trading Analysis for Microsoft Corporation (NASDAQ:MSFT)
Conditional buy signals have surfaced in shares of Microsoft Corporation (NASDAQ:MSFT) and Stock Traders Daily recommends that investors buy the stock so long as it remains above our stated longer term support levels. These support levels will change over time and we suggest that investors continue to monitor the support levels and the associated risk controls, but at this current time longer term support was identified at $41.05.
According to our combined analysis for Microsoft, if the stock remains above $41.05 we would expect it to continue to increase over time and test $50.59. Risk controls exist if the stock breaks below $41.05. Given its proximity to this longer term support level our combined analysis, by rule, suggests that investors consider buying Microsoft accordingly.
In doing so, it is important to recognize that earnings growth at Microsoft has been negative and is expected to remain negative through the calendar year 2015. Analysts are expecting earnings to contract by 6.84% this year, but in 2016 they are expecting earnings growth of 18.55%. That suggests that Microsoft may present an attractive value in the future even though current observations are skittish and red flags are raised.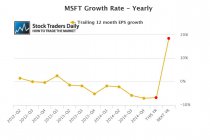 Tweet