Using Honeywell International Inc. (NYSE:HON) as an indicator, The DJIA is Overvalued
Honeywell International Inc. (NYSE:HON) looks expensive, valuations are extended, and if it is any indication of the relative value of the Dow Jones industrial average it could lead investors to conclude that the Dow Jones industrial average is also significantly ahead of itself.
If HON manages to meet analysts' expectations it will be growing at a rate of 4% on a yearly basis. On a quarterly basis, the growth rate is much lower than that, but either way the stock trades at about 20 times earnings, making it rich not only when compared to the market but when compared to its overall growth rate as well.
We evaluate earnings growth in two ways, using the same metric. For every quarter we calculate trailing 12 month EPS numbers so that seasonal anomalies are avoided. In our quarterly growth rate chart we compare that trailing 12 month data on a quarter by quarter basis to determine how earnings are growing every quarter. In our yearly growth rate chart we would take the trailing 12 month data from this quarter and compare it to the same quarter of the previous year to determine yearly growth for any well. By plotting this data over time we can see the changes in growth respectively.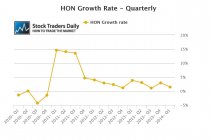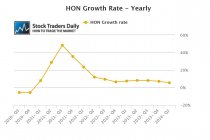 Our yearly growth rate chart shows us that after I popping growth in 2011 Honeywell has been steadily growing slower every quarter. The company has been growing, earnings have not been contracting, but the growth rate is certainly is much slower than it was and if the company meets analyst expectations this time it will only be growing at 4%. That is only a concern if valuation matters.
At 20 times earnings Honeywell is trading at five times its growth rate, and that makes it expensive. Investors in Honeywell should understand the valuation risk that exists.
On a technical basis, Honeywell is very close to a level of longer-term resistance as we have defined that in our real time trading report for HON. The stock has not tested resistance officially, but it is within striking distance and by rule if the stock tests resistance and resistance remains intact we will expect a complete oscillation back down to longer term support again.
In summary, although valuation risk exists our observations suggest that Honeywell could increase slightly before beginning a retracement, but unless earnings growth somehow accelerates the risks identified here will not go away.

Tweet