Valuation analysis for American Express Company (NYSE:AXP)
This article attempts to identify the fair value of American Express Company (NYSE:AXP) using an earnings-driven approach that focuses on trailing 12 month earnings growth including forward looking estimates for the same. Our observation excludes onetime events to focus on earnings from operations and uses a peg ratio analysis to identify relative value accordingly.
Starting with our yearly earnings growth analysis, the growth rate for American Express this year is expected to be 8.62%, which is lower than any other time between now and the third quarter of 2013. However, that growth rate is still solid, and next year analysts are expecting earnings growth to improve to 13.69%.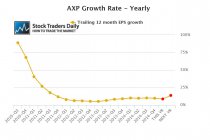 The current PE multiple for American Express is 14.09, but if analysts are correct about earnings this year that PE multiple will decrease to 13.51, and if they are correct about next year the PE multiple will decline even further to 12.39. The last time the PE multiple for American Express was near 12x was at the end of 2011 - beginning of 2012.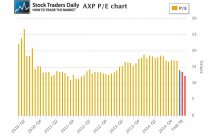 The current peg ratio for American Express provides a clear picture of fair value given the EPS growth rate and PE multiples offered above. The current peg ratio for American Express is 1.46, and it is expected to increase to 1.57 this year if analysts are correct, but next year the peg ratio will drop to 0.91. If analysts are correct about their estimates American Express could have underlying value because we consider PEG ratios that are this low to be potentially attractive.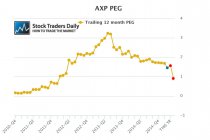 Technical take:
According to our real time trading report for American Express the stock has tested longer term support and if longer term support remains intact we should expect the stock to increase back towards longer term resistance levels again. Longer term support acts as our risk control and if it breaks we should get out of this position, but if longer term support remains intact we should expect higher levels by rule.
Summary:
Not only does American Express currently offer an attractive valuation given the earnings growth and peg ratio analysis we have provided above, which are predicated on analysts' being right about their estimates of course, but the stock has also fallen to test our longer term support level and that provides a buy signal for the stock accordingly. It also acts as our risk control, so if longer term support begins to break we would consider it a leading indicator that analysts' estimates might be revised, but as they stand now American Express looks like an attractive valuation and tests of support are buy signals by rule.
Disclaimer: Stock Traders Daily provides trading strategies, which by definition incorporate risk controls, and it has only engaged in buy and hold strategies twice since the turn of the century. The first was in October of 2002, and those buy and hold strategies lasted until 2006, and the second was in February of 2009, and those buy and hold strategies lasted until the end of 2010. Every point in between Stock Traders Daily has been providing risk controlled strategies, market based strategies, and strategies for approximately 3000 individual stocks, which are unbiased and which incorporate the notion that short term gains lead to long term success. There is a time and a place for buy and hold strategies and this is neither the time nor the place for that approach in our opinion. Risk controls are essential.

Tweet