Valuation analysis update for Amgen, Inc. (NASDAQ:AMGN)
In addition to being an update to our previous fair value analysis for Amgen, Inc. (NASDAQ:AMGN) this article also identifies Amgen as an attractive trading vehicle.
On February 27 we provided a fundamental analysis of Amgen, suggesting that the stock, at that time, was attractive to value oriented investors (report). Our basis was earnings growth as that compared to the PE multiple levied on the stock at that time. When our initial evaluation was issued the stock was about $157, today it is higher than that, but our analysis of fair value for Amgen has not changed. What has changed is that we have officially introduced Amgen as our Stock of the Week.
Our Stock of the Week Strategy is a strategy designed to take advantage of a stock's fluctuation during a week, and our evaluation of performance suggests that this strategy might very well be the best performing strategy on the market since December of 2007, when it was established.
Recent Events:
3.23: Biotech stocks have been largely under pressure today as a group and Amgen has been under pressure with the group.
3.20: Amgen announced that an application was filed seeking marketing approval of Repatha for the treatment of high cholesterol
3.19: A Judge rejected Amgen's request for injunction against Novartis (NVS) related to biologic products
On a fundamental basis, Amgen continues to look attractive to long-term investors according to our observations. An update to our prior valuation analysis begins with a review of EPS growth and the adjustments to forward looking EPS growth have already been incorporated into our observations.
The forward looking growth estimates for Amgen have not changed materially; in fact they are exactly the same as they were a month ago when we published our initial fair value report. According to our EPS growth evaluation the expected growth rate, first red dot in our chart, for this coming year is 14.8%, while the growth rate for next year (2016) is expected to be 20.69%, second red dot. The growth rate clearly is expected to accelerate in 2016.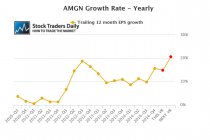 Given the slightly higher price that Amgen is trading at today, vs. a month ago, the PE ratios are slightly higher, but not materially higher. The PE ratio for Amgen currently is 19.24, but if analysts are correct about their estimates for 2015 and price remains the same the PE ratio is likely to drop to 18 times earnings, and if they are right about 2016 numbers the PE ratio is likely to drop even further to 15.94 times earnings. The blue bar represents the current PE multiple, the first red bar represents 20 15th, and the second red bar represents 2016 data.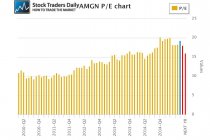 Next, we compare earnings growth to the PE multiple to assess fair value using a peg ratio approach. The current peg ratio for Amgen is 1.23, represented by the first blue dot, and if analysts are right about their expectations and price remains the same the peg ratio will decline to 1.21. That's the first red dot in our peg ratio chart, while the second red dot represents the peg ratio that would be if analysts are right and price remains the same through the end of 2016. In that case, the peg ratio would drop to 0.77.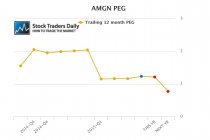 Our identification of fair value using a peg ratio approach suggests that attractive valuation exists when companies trade with peg ratio is between zero and 1.5. The closer the company is to 1.5 the more we would expect solid growth, and that is exactly what Amgen has been providing and is expected to continue to provide.
That begs the question, should price remain the same?
In our opinion, if analysts are right about their estimates Amgen should continue to move higher because, looking ahead, Amgen looks like an attractive value at current prices given future earnings growth expectations. Our combined analysis, which includes more proactive measures, further suggests that Amgen is in the process of increasing within a defined channel, so that supports the thesis as well.
Arguably, AMGN is not considered to be a conservative stock because of its ability to fluctuate in price, so although there is value looking forward, we would not consider this to be a good option for conservative investors.
Disclaimer: this is not a recommendation to buy or sell any stock, changes to valuation metrics can occur suddenly and valuation reports should be monitored closely as a result. Investing in the stock market brings with it a high degree of risk, loss of principal can occur, and anyone looking to invest in the stock market should consult with his or her financial consultants and tax advisers before making any decision to invest.

Tweet