Valuation analysis for Costco Wholesale Corporation (NASDAQ:COST)
This article identifies the fair value of Costco Wholesale Corporation (NASDAQ:COST) using an earnings driven approach. We compare earnings growth to the PE multiple specifically to determine fair value, but in doing so we also exclude onetime events from earnings data and include complete earnings cycles to remove seasonal anomalies. The result is a truer observation of growth.
Our analysis of Costco shows us that the yearly EPS growth rate was negative in the third quarter of 2014, basically zero in the fourth quarter of 2014, but if analysts are right about their expectations for calendar 2015, shown in the first red dot in our earnings chart, the growth rate will increase to 3.29%. That is also a meager growth rate, but looking ahead to what analysts expect in 2016, the second red dot in our chart, EPS growth in excess of 23% is expected then.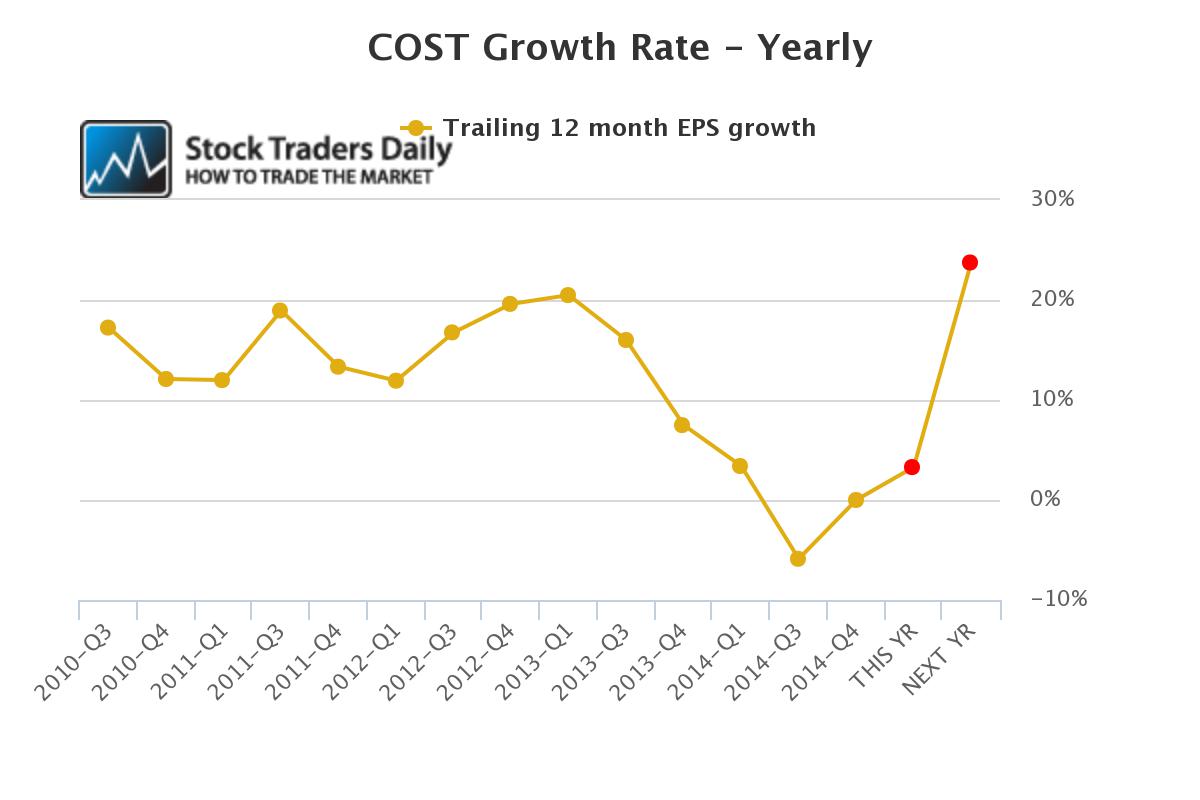 That brings our attention to the PE multiple. The current PE multiple is represented by the blue bar in our chart, and that is 31.59. The first red bar is the PE multiple that would be if analysts are right about their expectations for earnings in calendar 2015 and price remains the same, and that is 28.05, and the second red bar is 2016 data and that is 25.53.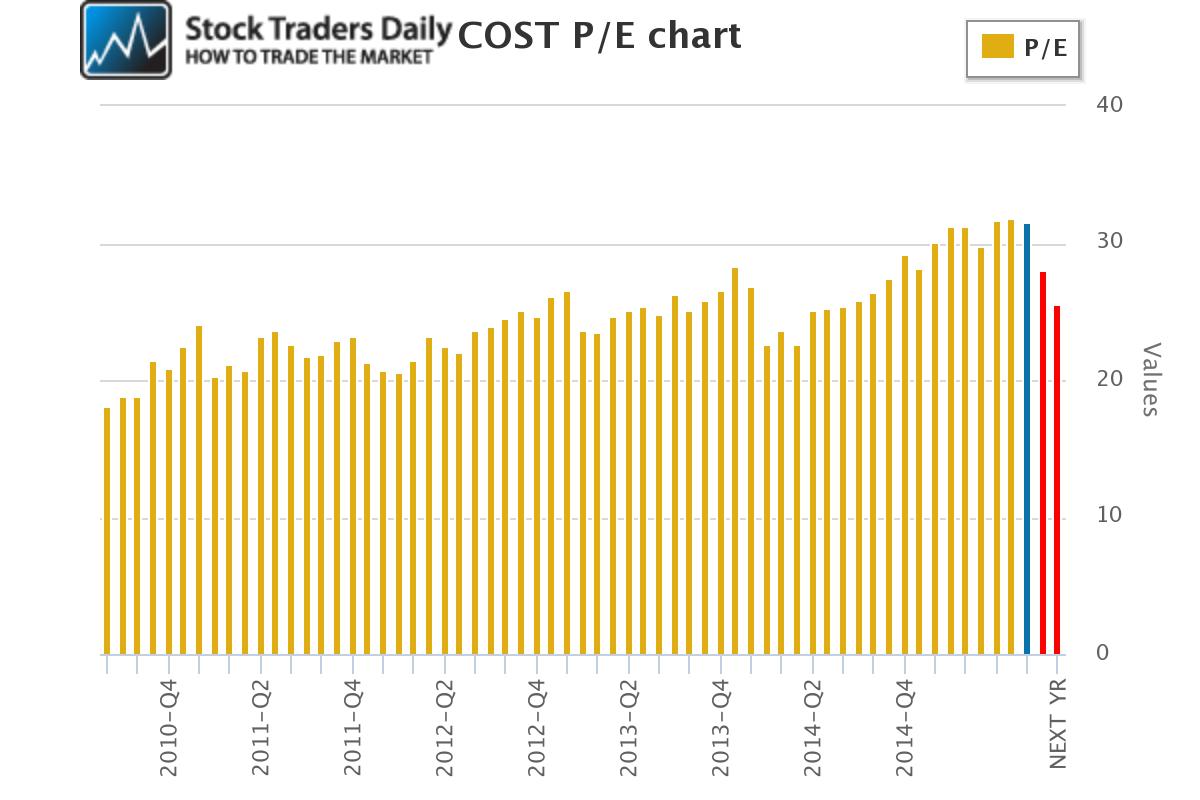 This combination of earnings growth and PE multiples allows us to evaluate peg ratios and identify fair value. We believe that fair value using a peg ratio approach exists when a company has a peg ratio between 0 and 1.5. According to our peg ratio chart for Costco the peg ratio was over seven early in 2014, and then fell to -5 afterwards and that is the current peg ratio represented by the blue dot in our chart as well. The red dot represents what the peg ratio would be if analysts are right about their expectations for 2015, and that is 8.53. It is safe to say that all of these peg ratios do not represent fair value.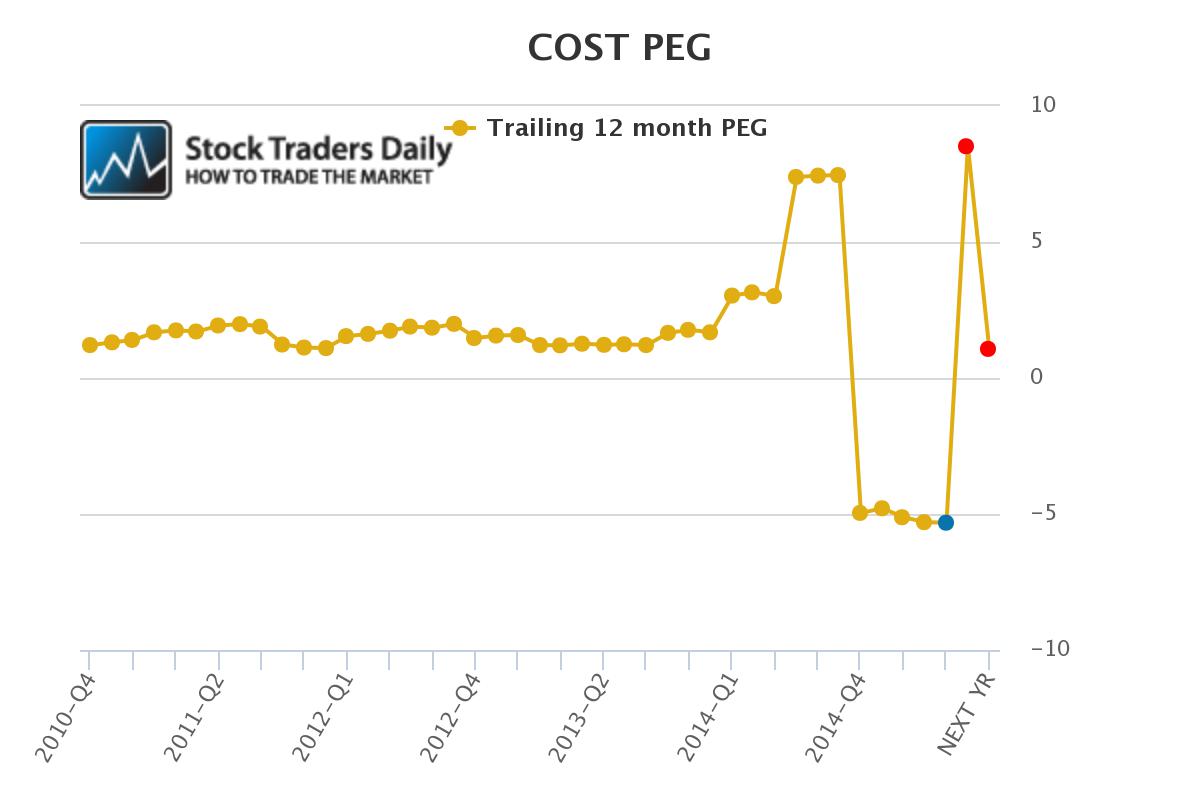 However, if analysts are right about their expectations for 2016 a peg ratio for Costco will fall to 1.07 and be in our wheelhouse. The problem is there's plenty of time between now and then and analysts are expecting very aggressive earnings growth in 2016, estimates which also have plenty of time to change.
Technical take:
According to our technical observations and our real time trading report for Costco the stock has begun to break below longer term support levels and that is a red flag. When longer term support levels break we consider those to be sell signals and possibly even short signals, but they surely are not buy signals.
Summary:
In conclusion, we consider Costco to lack fair value on an earnings driven basis, we consider the stock to be a high risk technically because it is starting to break longer term support levels too, and improved earnings results are not expected until calendar 2016, that means we will need to wait for two years until we get complete results from calendar 2016 and that is a very long time to wait. We believe that material risks can surface and Costco is possibly already poised to decline given its breaks of longer term support and the fundamental risks do not warrant trying to catch the stock if it breaks.
Avoid it and consider shorting it.

Tweet