Valuation analysis for E I Du Pont De Nemours And Co (NYSE:DD)
This article identifies the fair value of E I Du Pont De Nemours And Co (NYSE:DD) using an earnings driven approach that excludes onetime events and comprises complete earnings cycles to exclude seasonal anomalies. We compare earnings growth to PE multiples to accurately identify fair value on an earnings driven basis and from that extrapolate fundamental opinions, which we combine with technical observations to determine whether or not investors should be interested in shares of DuPont and if so to what degree.
To begin, we look at our yearly earnings growth chart, and from this we can see that earnings growth given the most recent data is -0.72%. If analysts are right about calendar 2015 the growth rate will improve to be over 2%, but that is still a meager growth rate. Not until calendar 2016 will earnings growth improve measurably, and at that time analysts are expecting earnings growth over 23%. 2015 and 2016 are the first and second red dots in our chart.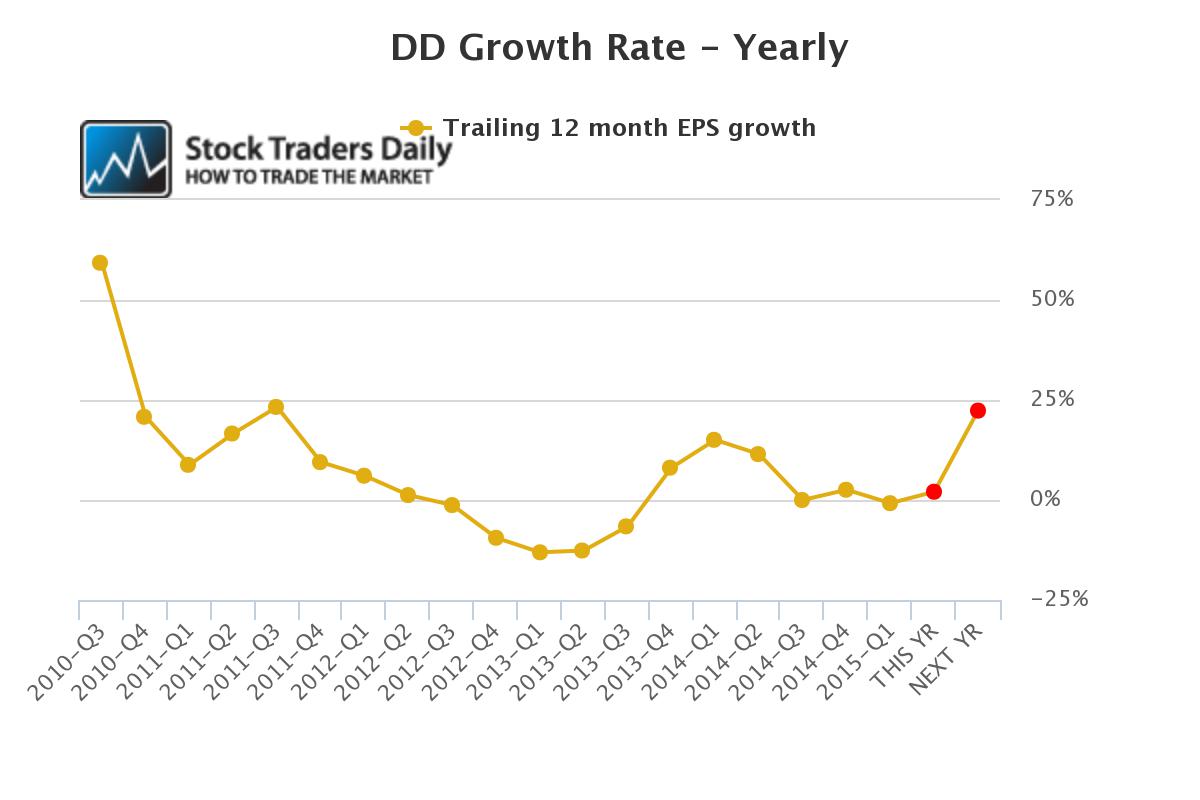 This brings the PE multiple into focus. The blue bar in our PE multiple chart represents the current PE multiple, which is 19.78. The first red bar is the PE multiple that would exist if analysts are right about their estimates for 2015 and price remains the same, and that is 18.09, and the second red bar represents the PE multiple that would exist at the end of 2016 if analysts are right and price remains the same through 2016, and that is 16.17.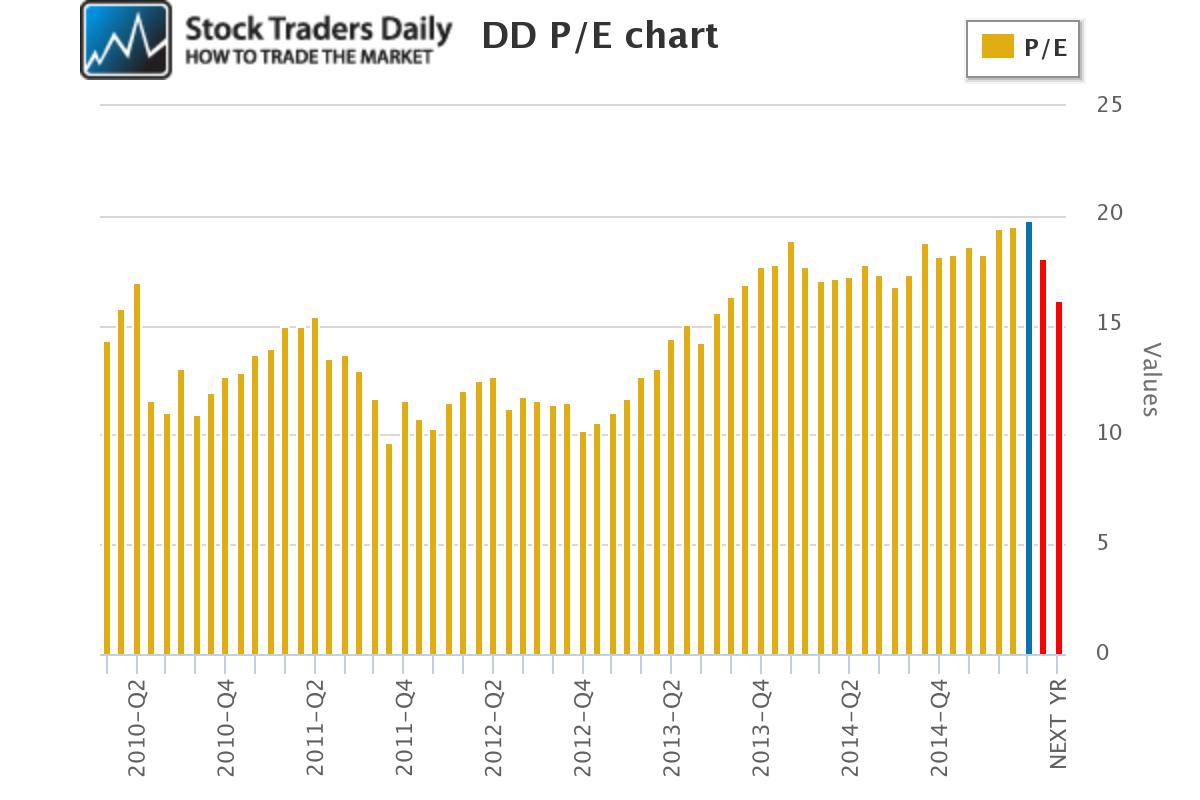 This combination allows us to identify fair value by combining the earnings growth with the multiple to define peg ratios. This peg ratio approach allows us to better identify fair value, and we define fair value as being when a peg ratio is between zero and 1.5. In the peg ratio chart for DuPont we can see that the peg ratio prior to recent data was above seven, but currently, shown in the blue dot in our chart, the peg ratio for DuPont is -25. At the end of 2015, if analysts are right, the peg ratio should increase to 8.78, the first red dot, but that still is well above our target range for fair value.
Not until 2016, shown by the second red dot in our peg ratio chart, will shares of DD look like an attractive value again, and that presumes price remains the same. This also assumes that analysts are correct and the 23% growth rate they're expecting in 2016 materializes. At that time, if they are right, the peg ratio will be 0.72.
Technical take:
According to our technical analysis for DD the stock has recently tested the level of longer term support and it is in the process of increasing towards longer term resistance so we would expect higher levels until such time as longer-term resistance as that is defined in our real time trading report for DuPont is tested.
Summary:
On a fundamental basis DD does not look attractive. Not until two years from now will DuPont look attractive on a fundamental basis, but that presumes a growth rate of 23% in 2016, something that appears quite lofty given recent growth trends. There is plenty of time between now and then, however, which could open the door to undulations in this stock.
Although we do not expect the stock to decline immediately, we would consider DD to be an interesting short when resistance lines are tested. Resistance is not being tested, but the stock does not have any value currently and it is not expected to show value for years. That means it is also likely to fall materially from resistance when resistance is tested.

Tweet