Valuation analysis for Goldman Sachs Group Inc (NYSE:GS)
Stock Traders Daily has come out cautious on shares of Goldman Sachs Group Inc (NYSE:GS). Based on a combination of factors, none more important than valuation, we believe that upside potential is reduced and downside risks are higher than previously.
Historically shares of GS have traded with relatively attractive valuation levels; at least we could rationalize prior stretched valuation in terms of market or economic conditions, but future projections stretch valuation without the imposition of those factors.
Analysts do not seem to be factoring in an economic recession or a material market decline into their forward observations for GS, but instead a simple deterioration in the growth rate seems to be expected, and if that's true GS, even with a multiple that, to the naked eye, appears low, is expensive. With a multiple of 11x GS does not seem rich when compared to the broader market or to its past or current growth rate, but when we look ahead it does.
The best way to explain this is to look at the PEG ratio for GS. In the chart below we can see that immediate valuation levels using past EPS data is good, in fact the first red dot in the graph represents calendar 2015 and it looks good too, so immediate valuation risks do not exist, but it is next year's number that is a concern.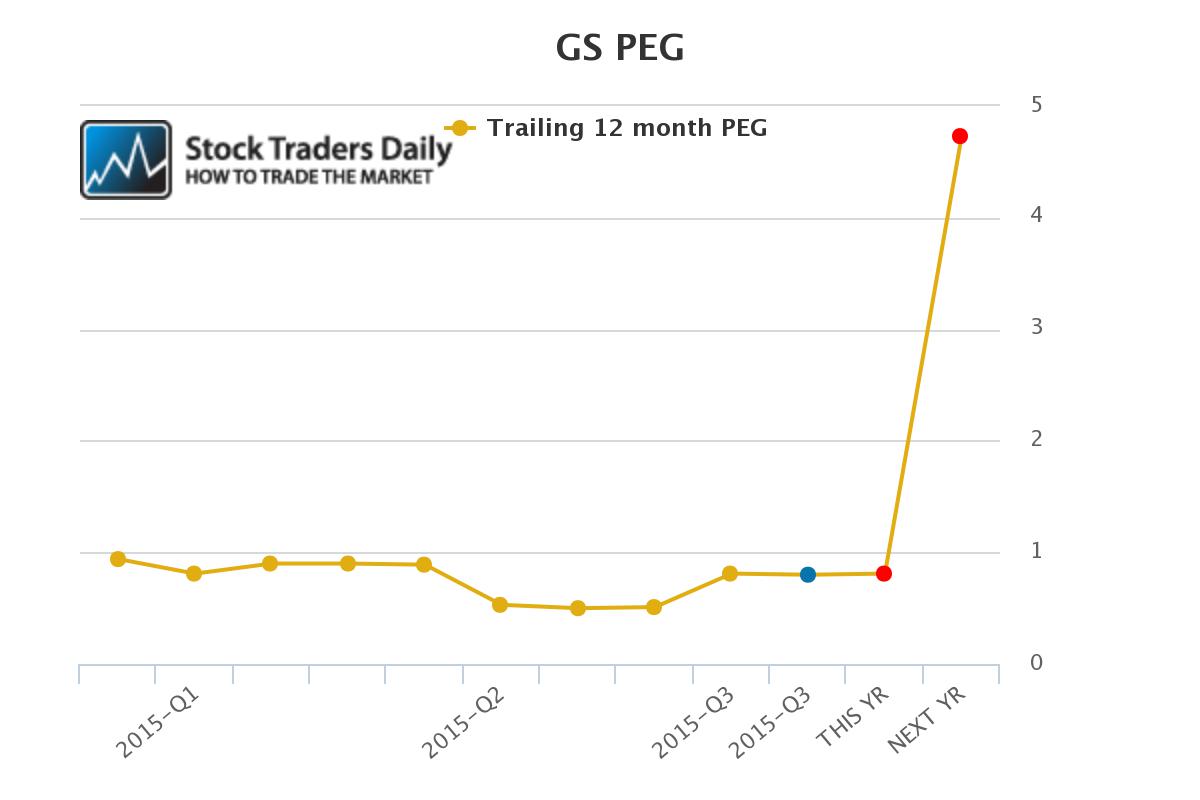 Looking ahead to 2016, EPS growth is expected to be dismal.
The catch is that GS has a history of pulling a rabbit out of a hat, and this is something that major investors in GS will remember. We are bringing this to light because it will play a role when concerning comments start to surface in the months ahead, but we don't expect those concerning words to come until the stock starts to decline and no one is expecting that to happen anytime soon.
However, we consider this observation to be ahead of the curve, and we consider shares of GS to be poised to look extremely rich on a forward looking basis. Next year the PEG ratio is going to skyrocket to 4.73 if analysts are correct, and that's even higher than it was back in 2012.
Updates to this observation will be made and technical trading triggers are identified in real time.

Tweet