Valuation analysis for Home Depot Inc (NYSE:HD)
This article identifies the fair value of Home Depot Inc (NYSE:HD) using an earnings driven approach that focuses on yearly earnings growth comprising trailing 12 month earnings data compared year over year every quarter. Our analysis also excludes onetime events to more accurately identify real growth.
Our observations also include forward looking estimates so that we can determine what the future fair value of Home Depot is as well. Forward looking estimates comprise analysts' estimates accordingly.
Home Depot is not expected to better the $1.52 EPS results from the second quarter of 2014, but if Home Depot matches analysts estimates when it reports earnings next it will double the growth rate it has experienced on a quarterly basis given the growth rate that existed last quarter. The quarterly growth rate last quarter was 4.81%, and if Home Depot matches analysts estimates this time the quarterly growth rate will be 9.63% respectively.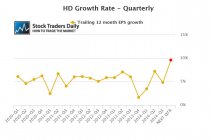 However, it is the yearly growth rate that we consider most important, and it is that which we use to establish relative value conclusions. The yearly growth rate for Home Depot has also been solid recently, 16.27% to be exact, but if analysts are right about their estimates for this year the yearly growth rate will increase to 23.2%, and if they're right about next year the yearly growth rate will be 19.95%. This is an exceptional growth rate in our point of view.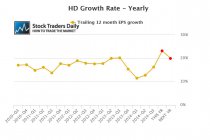 Conceningly, Home Depot currently has a PE multiple that is higher than at any other time since 2010. The 25.41 multiple levied on shares of Home Depot at this time warn us that the stock looks rich, but if price remains the same and earnings growth comes in like analysts expect it to the PE multiple will decline to 24.67 this year and 21.18 next year.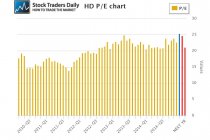 When we compare the growth rate to the PE multiple we get our peg ratios for Home Depot, and the peg ratio has recently been coming down from near 2 to 1.39, where it is today. In addition, if analysts are right about their estimates for Home Depot the peg ratio will likely be very close to 1 by the time this year is over. That presents a very attractive relative valuation, but it would require Home Depot to continue to grow at or above 20%.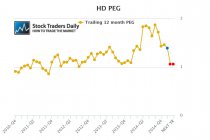 Technical take:
According to our real time trading report for Home Depot the stock has been increasing steadily towards its longer term resistance line, and although the stock has not yet tested longer term resistance it still appears to be in the process of doing so. Our combined analysis tells us to expect shares of Home Depot to continue to increase until longer-term resistance is tested, and from there our combined analysis tells us to expect a modest decline back towards longer term upward sloping support lines. Our longer-term resistance level is currently $114, but this level will change over time and updates to this report should be made regularly as a result.
Summary:
If Home Depot is able to continue to grow at a rate that is close to or above 20% its current multiple will not look nearly as rich as it might to the naked eye and the peg ratio valuation that we are using to identify growth with a focus on earnings will make it attractive accordingly. By rule, we would hesitate to buy a stock that is so close to longer term resistance levels, however, and instead we would prefer to buy the stock on weakness if it falls from resistance to support accordingly. So long as the growth rate is maintained, Home Depot looks like a buy on weakness when support levels are tested.

Tweet