Valuation analysis for Honeywell International Inc. (NYSE:HON)
On February 12 State Street, acting in various capacities, filed a 13 D with the SEC disclosing ownership of shares in Honeywell International Inc. (NYSE:HON) that totaled 15.6% of the shares outstanding. This filing suggests an increase from the ownership identified at the end of the year, which was 8.99%. As stated in the filing, the additional ownership comes primarily from State Street Bank and Trust Company acting in various capacities. Still, State Street now owns approximately 15.6% of Honeywell Corporation.
Initial reactions often suggest that when investors who already own large stakes in companies add significantly to their positions and they do it at relative highs, as was the case with Honeywell, those decisions might be worth taking notice of because those investors who already know the company well might very well perceive additional value and be a leading indicator to what lies ahead.
Today, Honeywell hit a new all time high, but it's PE multiple is higher than it has been since 2010, currently at 18.75 times earnings. With a relatively expensive multiple like this additional scrutiny is deserved, but as we dig through the forward EPS estimates we can see that not only to analysts expect earnings growth to improve this year at Honeywell, but they expect significant improvement next year.
According to estimates, EPS growth this year is expected to be 12.43%, and next year EPS growth is expected to be 21.76%. Importantly, we are using trailing 12 month observations that exclude 1-time events to better gauge actual growth and exclude seasonal anomalies.
Using a peg ratio analysis to gauge value, Honeywell's current peg ratio is 1.86. That is not immediately attractive, but when we look ahead two years the peg ratio declines to 0.71 and the PE multiple declines to 15.4. That tells us, if analysts are correct about the growth rate they expect a couple years from now the relative value from Honeywell will likely surface indeed.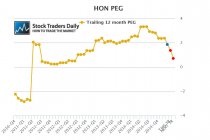 Honeywell has a very diverse product line, and that has helped it thrive were many other companies in this space have struggled, but there is also more to it than that. Honeywell's focus on the commercial aerospace market and in providing more fuel efficient engines to that space has provided outstanding growth, and the company is expected to continue to capitalize on that going forward. In the search for fuel efficiency, even with fuel prices having come down so much recently, Honeywell is a natural choice, and so long as the commercial aerospace segment continues to either expand fleets or upgrade existing aircraft the main growth catalyst at Honeywell is likely to continue to produce results.
The risk, in our opinion, is economic in nature and if the commercial aerospace industry takes a hit as a result of deteriorating economic conditions Honeywell will likely suffer along with it, so it is logical to continue to monitor the commercial aerospace industry in relation to Honeywell.

Tweet