Valuation analysis for Johnson & Johnson (NYSE:JNJ)
In some circles analysts will tell you that fair value is something that investors are willing to pay, but that is not how I approach things. In this article we will discuss the fair value of Johnson & Johnson (NYSE:JNJ)
First of all, this is a solid company, earnings have been growing, and analysts expect future growth. Based on those criteria there's nothing bad that I have to say about the company, or its growth, but valuation is a completely different animal.
In this specific instance I like Johnson &Johnson, the company, but I consider the stock to be rich and I consider it to be overvalued based on its future growth rate.
When we look at companies and value them based on earnings growth peg ratios are used. This compares the price earnings multiple to the expected growth rate, and my definition of the peg ratio uses the growth rate that is expected this year and next year to define forward looking peg ratios. I also use trailing data to understand what valuation has been in the past.
However, this data is also premised on an evaluation of earnings growth, so let's start there. I focus on trailing 12 month earnings data that excludes onetime events to focus even more specifically on real growth. I compare this data year over year to develop yearly earnings growth charts, and for Johnson &Johnson earnings grew at a rate of about 6.2% as of the most recent earnings release.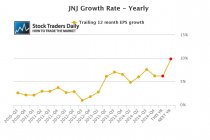 This year, analysts expect similar growth, but by the end of next year analysts are expecting earnings growth to reach 9.88%. All of this plays a role not only in our evaluation of the PE multiple, but also our evaluation of the peg ratio.
Currently, the PE ratio for Johnson &Johnson is 16.75, which is high compared to its historical norm. The PE ratio for Johnson &Johnson has historically hovered just above 10 times earnings. Looking ahead, however, the multiple is likely to come down to 15.24 times earnings if analysts are right about their expectations for 2016. That is still rich by historical measures, but it's better than 16.75 times earnings, and much better than the 18 multiple that the stock saw at the end of 2014.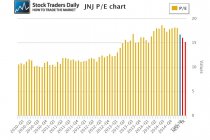 This combination of earnings growth and the PE multiple allows us to look at peg more closely.
Our evaluation shows us that the peg ratio for Johnson &Johnson is currently 2.69, and if analysts are correct about this year the peg ratio will be 2.59 by year's end. However, that peg ratio drops to 1.54 at the end of 2016, so over time the peg ratio does improve.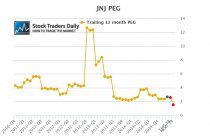 The problem here is that the peg ratio for Johnson &Johnson today reflects a value that is probably appropriate, assuming analysts are correct, two years from now. Our observations suggest that Johnson &Johnson is pricing in two years worth of growth already, and that makes the stock appear rich to us.
With an added catalyst, our observation that current PE multiples are much higher than historical norms, we consider Johnson &Johnson to be rich on a fundamental basis and we would suggest that investors avoid the stock.

Tweet