Valuation analysis for UnitedHealth Group Inc (NYSE:UNH)
Our analysis of fair value for UnitedHealth Group Inc (NYSE:UNH) must start with the obvious. Direct beneficiaries of Obamacare Policies have been doing great and currently no one seems to think that will change materially (not so fast). This is a broad observation, and not focused on UNH, but it bears mentioning before we talk about the fair value for UNH below.
To begin, Earnings Growth for UNH has recently been good. The data below represents Y/Y EPS Growth for UNH since 2009. This observation suggests EPS growth of near 10% this year and 13% next year.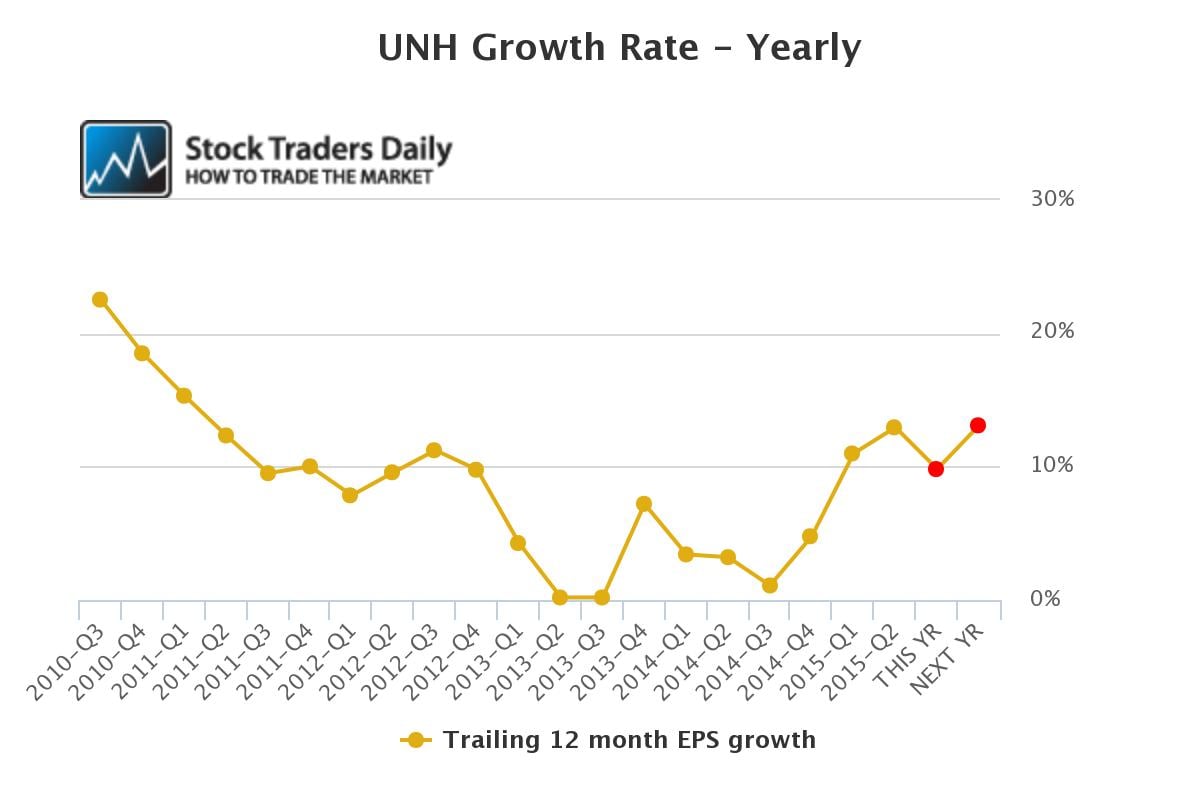 Those numbers are solid, but there is a concern. Quarterly growth rates are expected to be slightly negative next time. That means, using complete 12-month cycles and comparing that Q/Q instead of Y/Y we can see a stall in Earnings Growth. This can bring the expected Y/Y growth rate for 2015 and 2016 into question.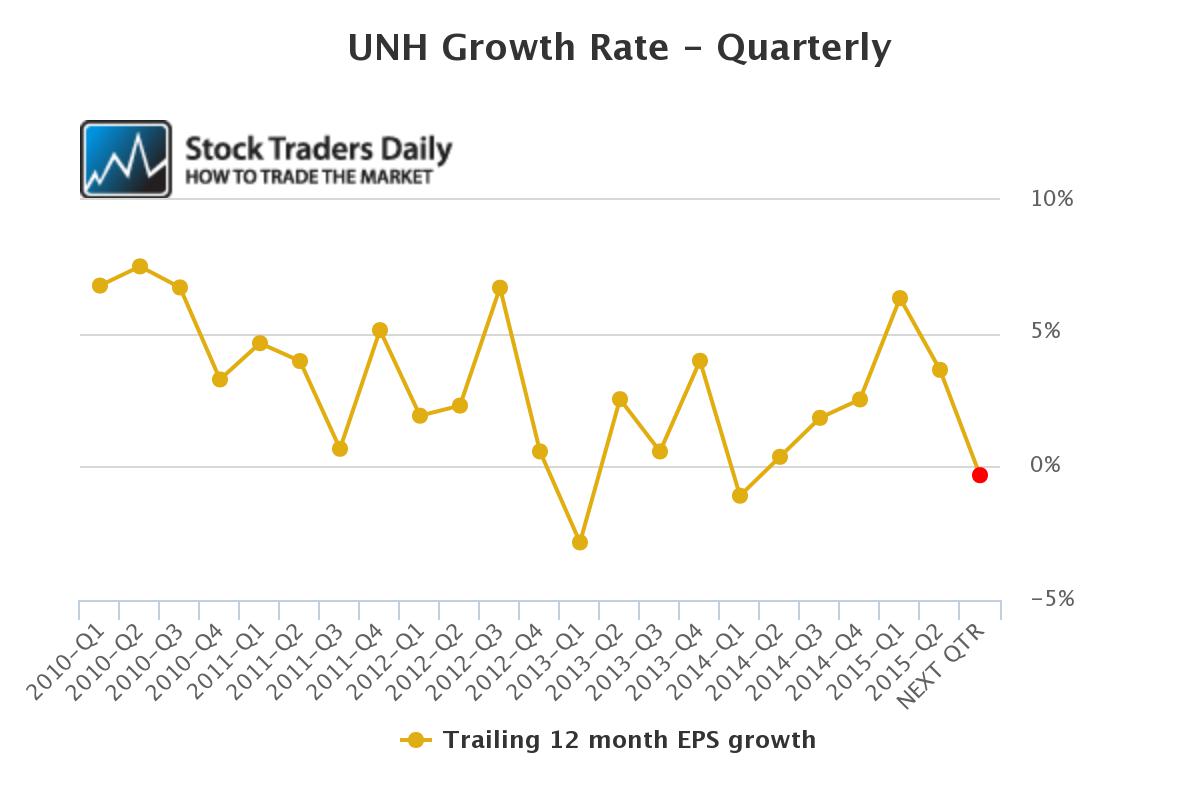 The last time growth rates declined to near 0, which happened in Q1 2013 in the quarterly chart and later in 2013 in the yearly chart of EPS Growth, the PE ratios also began to spike. The PE multiple for UNH increased from near 10x to near 20x within a 2-year time span, essentially doubling the value of the Stock's price by multiple expansion alone.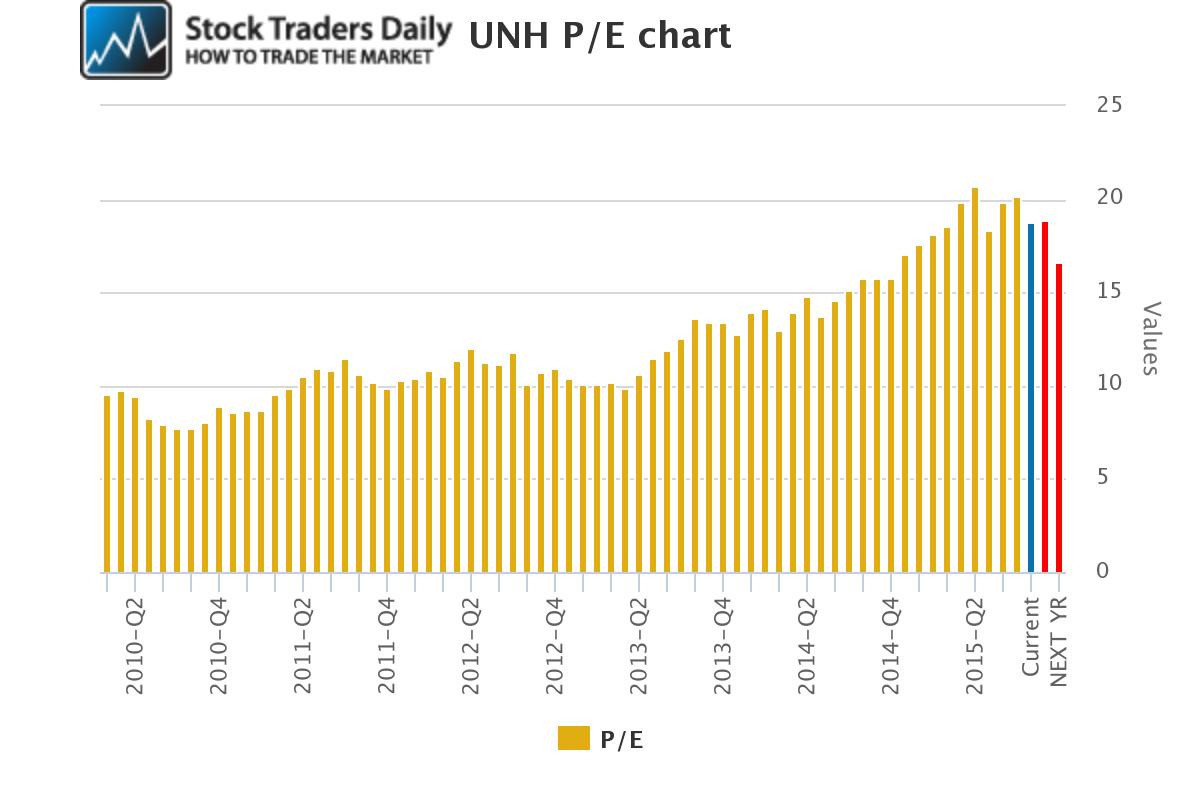 With a growth rate that exceeded 10% Y/Y that multiple does not seem out of line, but we all know that the growth came from the initiation of Obamacare so a new question now exists.
Have the Earnings and Revenue numbers for companies that initially benefitted from Obamacare already been adjusted higher? Think about that carefully. If the initiation of Obamacare caused monies to flow into these companies very quickly as new patients came into the marketplace, which we all seem to think it did, is it reasonable to expect that growth to persist? Clearly the added business will probably not go away, but can it increase in any material way now that it is already there?
This is a very serious question and it brings valuation back into the bigger picture.
If UNH matches the expectations that analysts currently have for EPS going forward, through 2016, the PE ratio will fall from about 18.8x, where it is today, to about 16.6x and the PEG ratio would fall below 1.5. A PEG ratio between 0 and 1.5 could represent fair value in our opinion.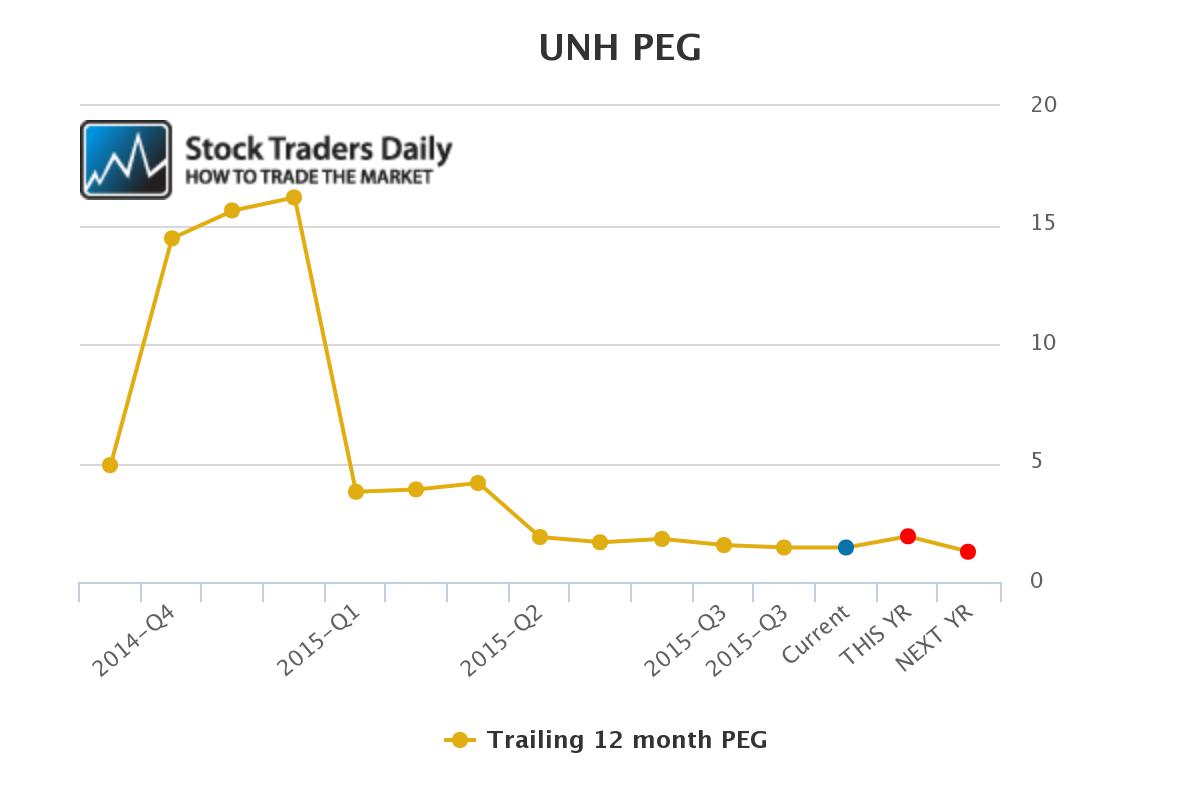 The problem reverts back to the Q/Q EPS Growth rate chart.
If Growth rates are slowing on a Q/Q basis, the last time that happened it took a little while to show up in the Y/Y growth charts, and the PE multiple spiked afterwards thanks to Obamacare, but Obamacare has 'played out' already and will not have that same influence, can investors in UNH be comfortable with a declining growth rate and a multiple that is materially higher than it was before Obamacare?
We appreciate the added business and the growth that Obamacare Policies have provided, this certainly has made growth look great, but ongoing comps may not and probably will not look nearly as good. In fact, because the numbers are significantly larger we also believe that it will take even more to produce comparable percentage growth numbers, and that may be tough.
The only thing holding us back from being extremely cautious is the industry's ability to raise prices on what seems like a whim sometimes.
On a technical basis UNH is testing a level of longer term support. If it holds we would expect the stock to oscillate back to longer term resistance. At the time I typed this though UNH was breaking longer term support, and so long as that remains true UNH will be an AVOID.

Tweet