Valuation analysis for Wells Fargo & Co (NYSE:WFC)
Every day Stock Traders Daily will issue analysis like this ahead of the EPS data.
Our trading recommendations suggest that investors should avoid WFC ahead of earnings, but after earnings are released the stock could offer exceptional opportunities.
Analysts are expecting Wells Fargo & Co (NYSE:WFC) to post EPS numbers of $0.98 per share when they report earnings on Tuesday. Based on our earnings analysis, which comprises complete earnings cycles to avoid seasonal anomalies and which excludes onetime events to define truer growth rates, if Wells Fargo reports in line with analysts' estimates the quarterly growth rate will decline to -0.24% while the yearly earnings growth rate will decline to 0.99% if analysts are right about their expectations for 2015 too.
Our analysis here is intended to offer fundamental observations for Wells Fargo so longer term investors can't define value accordingly. Our basis for defining value is also earnings growth.
Our yearly earnings growth chart below includes past data, it also looks ahead at earnings growth for calendar 2015 and 2016 respectively. Those are the first and second red dots in our charts. According to our observations earnings growth for calendar 2015, if analysts are correct, will decline to 0.99%.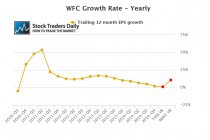 However, analysts are expecting a solid recovery in 2016 and they are expecting earnings growth of 10.73%. Therefore, analysts are essentially expecting the downtrend in earnings growth that began in early 2013 to change in 2016. It will not change in calendar 2015, according to analysts, but instead two years out earnings growth will look much better than it does now.
That brings our attention to the PE multiple. The PE multiple for Wells Fargo is currently 13.29, represented by the blue bar in our PE chart, it will be 13.1 at the end of calendar 2015 if analysts are right and price remains the same, resented by the first red bar, and fall to 12 by the end of calendar 2016 if analysts are right and price remains the same.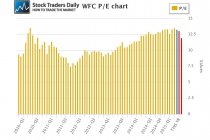 This combination of earnings growth and PE multiple observations allow us to create a peg ratio chart which helps define fair value. Our peg ratio analysis suggests that fair value exists when a peg ratio is between zero and 1.5. According to this observation Wells Fargo has not traded with a peg ratio below 1.5 since the third quarter of 2014, the current peg ratio is 6.79, represented by the blue dot, and the peg ratio skyrockets to 13.23 if analysts are right about 2015, represented by the first red dot.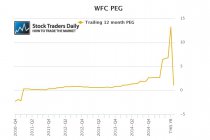 Not until the end of 2016 will the peg ratio fall back to a level within our range of defined value. Between now and then valuation will come into question according to our observations, if the company hiccups at all we expect selling pressure to be relatively aggressive.
This fundamental observation suggest that when valuation ratios are stretched investors are less willing to buy on the heels of bad news, so investors in Wells Fargo should understand that the stock is susceptible to shocks over the next year or so if there are any negative news events to speak of.
For long-term value oriented investors we would avoid Wells Fargo at this time.
In addition, although Wells Fargo has not been a fruitful trading stock because its volatility is relatively low, the stretched valuation in Wells Fargo at this time could make it much more attractive as a trading vehicle going forward. According to our Trading Report for WFC, opportunities exist for traders even though fundamental long-term investors should proceed with caution.

Tweet