Zero R-Squared and SPDR S&P 500 ETF Trust (NYSEARCA:SPY)
This is both a webinar announcement and a description of a Strategy offered by Stock Traders Daily that has zero market correlation with corresponding outperformance when compared to the SPDR S&P 500 ETF Trust (NYSEARCA:SPY).
R-Squared: 0
Market Outperformance: Yes
Strategy: Long/Short + risk control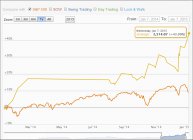 Professional investors often seek out strategies that can outperform the market with low correlation but rarely, if ever, do they find a strategy that has no correlation to the S&P 500 (SPY) with corresponding outperformance. The Strategic Plan Strategy offer by Stock Traders Daily is unique because this strategy offers those exact qualities.
The strategy is premised around longer term pivot points and often finds itself in cash. But the strategy is proactive, risk controlled, and capable of making money when the S&P 500 (SPY) falls, when it increases, and when it moves sideways in a volatile fashion as well.
However, the Strategic Plan Strategy has had no correlation to market performance since its inception in January of 2009. Interestingly, since that time, the Strategic Plan Strategy has outperformed the market ex dividends, which is a rather remarkable feat given the bull market that we have experienced.
Most proactive risk controlled strategies, especially ones that have no correlation to the market, significantly underperform the market when the market experiences aggressive increases like it has since January of 2009. That is not the case with the Strategic Plan Strategy.
You can either find out more information about the Strategic Plan Strategy through Stock Traders Daily directly, or first review our recorded webinar: RECORDED WEBINAR

Tweet